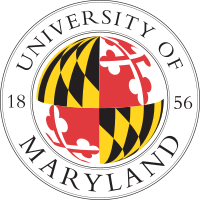 University of Maryland
Map College Park, MD 20742» 301-405-1000 » www.umd.edu

The University of Maryland promotes Psychology through a remarkable assortment of research and practical teaching methods that provide students with the skills necessary to further their education or find professional careers in their respective fields. The coursework covers the study of human behavior and cognitive function from society as a whole to individuals within selected cultures. Students entering the doctoral program are expected to work with one of five program areas including Cognitive and Neural Systems (CNS), Developmental Psychology, Social, Decision, and Organizational Science (SDOS), Counseling and Clinical Psychology. Students are mentored by well-respected faculty members, some of whom have experience as Editors, Associate Editors, and have received awards in their fields.

Interview
This school has not been interviewed yet. Contact us if you would be interested in an interview.
Format
Accreditation
APA Accredited
Psychology Degrees Offered:
Ph.D. in Clinical Counseling Developmental Social - Decision - Organizational Science (SDOS)
Master of Arts in Psychology
Doctor of Philosophy in Psychology
Reviews
University of Maryland has no reviews yet.
Tuition & Financial Aid
Campus Setting: Suburb - Large
Student-to-Faculty Ratio: 18 to 1
Total Enrollment: 10710
Inquire for current tuition
Latest News on Google
Category
University of Maryland has programs in the following specializations: Social Psychology, General Psychology.
Location
University of Maryland has campus locations in: Maryland
Nearby Schools for Psychology

Catholic University of America
(4.84 miles)
Washington, DC

Howard University
(6.35 miles)
Washington, DC

George Washington University
(8.51 miles)
Washington, DC

American University
(8.81 miles)
Washington, DC

Georgetown University
(9.06 miles)
Washington, DC

Bowie State University
(9.88 miles)
Bowie, MD

Institute for the Psychological Sciences (11 miles)
Arlington, VA, Online Option

University of Maryland-Baltimore County
(22 miles)
Baltimore, MD

George Mason University
(23 miles)
Fairfax, VA

University of Baltimore
(28 miles)
Baltimore, MD