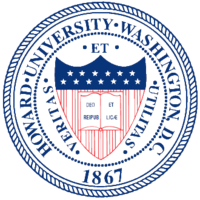 Howard University
Map 2400 Sixth St NW, Washington, DC 20059-0001» 202-806-6100 » www.howard.edu

Howard University Department of Psychology is a Graduate School which offers students the chance to gain admission on to Ph.D. programs. There are several areas that may be chosen as a specialist field such as Developmental, Neuropsychology and Clinical Psychology. The latter of those is a 5 year program which runs full time and uses a mix of traditional and modern methods of teaching which enable students to go on to careers involving the research, practice and teaching of this field of Psychology. Upon completion of the course students are awarded with either a Masters or Doctoral Degree dependent on their level of study.

Interview
This school has not been interviewed yet. Contact us if you would be interested in an interview.
Format
Accreditation
APA Accredited
Psychology Degrees Offered:
Masters in Clinical Counseling with Specialization in Drug and Alcohol Counseling
Reviews
Howard University has no reviews yet.
Tuition & Financial Aid
Campus Setting: City - Large
Inquire for current tuition
Latest News on Google
Category
Howard University has programs in the following specializations: Counseling Psychology.
Location
Howard University has campus locations in: DC
Nearby Schools for Psychology

Catholic University of America
(1.52 miles)
Washington, DC

George Washington University
(2.16 miles)
Washington, DC

Georgetown University
(3.02 miles)
Washington, DC

American University
(3.98 miles)
Washington, DC

Institute for the Psychological Sciences (4.80 miles)
Arlington, VA, Online Option

University of Maryland
(6.35 miles)
College Park, MD

Bowie State University
(15 miles)
Bowie, MD

George Mason University
(17 miles)
Fairfax, VA

University of Maryland-Baltimore County
(28 miles)
Baltimore, MD

University of Baltimore
(34 miles)
Baltimore, MD