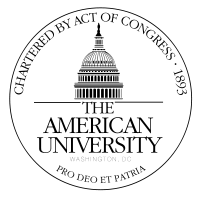 American University
Map 4400 Massachusetts Ave NW, Washington, DC 20016-8001» 202-885-1000 » www.american.edu

The American University currently offers students an MA in Psychology. This program includes both classroom based learning and working in laboratories, performing research projects. Upon completion, you can either start working in the field of psychology, or you can move on to completing a doctoral degree. There are three different tracts to follow within this degree, being general psychology, personality/social psychology and biological/experimental psychology. The school believes in mutual collaboration. This means that you will be supported fully by faculty members as a student, but you will also be expected to support other students where you can, as they will for you.

Interview
This school has not been interviewed yet. Contact us if you would be interested in an interview.
Format
Accreditation
APA Accredited
Psychology Degrees Offered:
Masters in Psychology
Graduate Certificate Addiction and Addictive Behavior
Graduate Certificate Psychobiology of Healing
PhD in Clinical Psychology
PhD in Behavior Psychology - Cognition - Neuroscience
Reviews
American University has no reviews yet.
Tuition & Financial Aid
Campus Setting: City - Large
Inquire for current tuition
Latest News on Google
Category
American University has programs in the following specializations: General Psychology, Clinical Psychology.
Location
American University has campus locations in: DC
Nearby Schools for Psychology

Georgetown University
(2.19 miles)
Washington, DC

George Washington University
(3.53 miles)
Washington, DC

Howard University
(3.98 miles)
Washington, DC

Catholic University of America
(4.90 miles)
Washington, DC

Institute for the Psychological Sciences (6.03 miles)
Arlington, VA, Online Option

University of Maryland
(8.81 miles)
College Park, MD

George Mason University
(14 miles)
Fairfax, VA

Bowie State University
(19 miles)
Bowie, MD

University of Maryland-Baltimore County
(30 miles)
Baltimore, MD

University of Baltimore
(36 miles)
Baltimore, MD