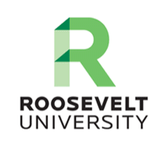 Roosevelt University
Map 430 S Michigan Ave, Chicago, IL 60605-1394» 312-341-3500 » www.roosevelt.edu

Roosevelt University's department of psychology acknowledges the growing needs of today's society and designs both undergraduate and graduate programs to fit the necessary requirements of the modern psychologist. Located in Chicago, Illinois, Roosevelt University offers campuses in Schaumburg, downtown Chicago, and also through distance education over the internet. One of the more prominent features of this department is the unique curriculum which has been balanced to provide support and motivation for students of all backgrounds. As a partner of the university, Harper College provides various options for psychology students to participate in research and earn both their Bachelor and Master of Arts degree.

Interview
This school has not been interviewed yet. Contact us if you would be interested in an interview.
Format
Accreditation
APA Accredited
Psychology Degrees Offered:
Masters of Arts in Clinical Psychology
Master of Arts in Counseling & Psychological Services
Reviews
Roosevelt University has no reviews yet.
Tuition & Financial Aid
Campus Setting: City - Large
Inquire for current tuition
Latest News on Google
Category
Roosevelt University has programs in the following specializations: Clinical Psychology, Counseling Psychology.
Location
Roosevelt University has campus locations in: Illinois
Nearby Schools for Psychology

National Louis University
(0.26 miles)
Chicago, IL

Adler School of Professional Psychology
(0.49 miles)
Chicago, IL, Online Option

The Chicago School of Professional Psychology at Chicago
(0.94 miles)
Chicago, IL, Online Option

University of Illinois at Chicago
(1.37 miles)
Chicago, IL

DePaul University
(3.59 miles)
Chicago, IL

Loyola University Chicago
(8.67 miles)
Chicago, IL

Concordia University-Chicago
(9.65 miles)
River Forest, IL

Chicago State University
(11 miles)
Chicago, IL

Northwestern University
(13 miles)
Evanston, IL

Calumet College of Saint Joseph
(16 miles)
Whiting, IN, Online Option