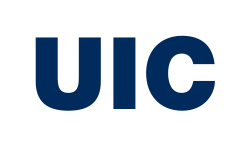 University of Illinois at Chicago
Map 601 S Morgan, Chicago, IL 60607» 312-996-7000 » www.uic.edu/index.html/

The Psychology Department in the University of Illinois at Chicago offers both Degree Programs and Graduate Study for candidates who wish to obtain a Master of Arts Degree and progress on to a Doctoral Degree and gain the valuable knowledge and skills required to become a successful professional in the Psychology field. There are five divisions which students may choose one of to major in, Behavioral Neuroscience, Clinical, Cognitive, Community and Prevention Research and Personality and Social, in addition to a minor area which must be approved. There are several training and practical opportunities throughout the department which are available to graduate students.

Interview
This school has not been interviewed yet. Contact us if you would be interested in an interview.
Format
Campus
Accreditation
APA Accredited
Psychology Degrees Offered:
Master of Arts in Psychology
Doctor of Philosophy
Master of Science in Psychology
Master of Science in Clinical Health Psychology
Masterof Science in Health Psychology
Tuition & Financial Aid
Campus Setting: City - Large
Student-to-Faculty Ratio: 17 to 1
Total Enrollment: 11197
Latest News on Google
Nearby Schools for Psychology

Adler School of Professional Psychology
(1.31 miles)
Chicago, IL, Online Option

Roosevelt University
(1.37 miles)
Chicago, IL

The Chicago School of Professional Psychology at Chicago
(1.38 miles)
Chicago, IL, Online Option

National Louis University
(1.44 miles)
Chicago, IL

DePaul University
(3.51 miles)
Chicago, IL

Concordia University-Chicago
(8.37 miles)
River Forest, IL

Loyola University Chicago
(8.75 miles)
Chicago, IL

Chicago State University
(11 miles)
Chicago, IL

Northwestern University
(13 miles)
Evanston, IL

Trinity Christian College
(16 miles)
Palos Heights, IL