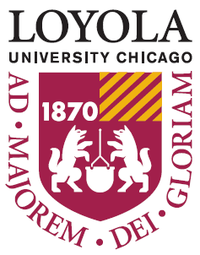 Loyola University Chicago
Map 1032 W. Sheridan Rd, Chicago, IL 60660» 773-274-3000 » www.luc.edu

Loyola University in Chicago is a Catholic Institution who's Psychology Department offers a graduate program with a focus in two areas, Healthy Development in Children Youth and Families and Psychological Foundations of Social Justice. The Department's faculty members work alongside the students in various classroom activities and active research projects with the aim of providing the valuable skills and knowledge in Clinical, Social and Developmental Psychology. The Clinical track is designed for Graduates wishing to pursue an academic or professional career in clinical Psychology whilst the developmental is more suited to those looking for a career outside of the clinical field.

Interview
This school has not been interviewed yet. Contact us if you would be interested in an interview.
Format
Accreditation
APA Accredited
Psychology Degrees Offered:
Master of Arts in Social Psychology
MasterÕs General psychology
Doctoral Degree in Psychology
Reviews
Loyola University Chicago has no reviews yet.
Tuition & Financial Aid
Campus Setting: City - Large
Student-to-Faculty Ratio: 14 to 1
Total Enrollment: 5997
Inquire for current tuition
Latest News on Google
Category
Loyola University Chicago has programs in the following specializations: Social Psychology, General Psychology.
Location
Loyola University Chicago has campus locations in: Illinois
Nearby Schools for Psychology

Northwestern University
(4.18 miles)
Evanston, IL

DePaul University
(5.24 miles)
Chicago, IL

The Chicago School of Professional Psychology at Chicago
(7.78 miles)
Chicago, IL, Online Option

Adler School of Professional Psychology
(8.20 miles)
Chicago, IL, Online Option

National Louis University
(8.41 miles)
Chicago, IL

Roosevelt University
(8.67 miles)
Chicago, IL

University of Illinois at Chicago
(8.75 miles)
Chicago, IL

Concordia University-Chicago
(10 miles)
River Forest, IL

Trinity International University-Illinois
(18 miles)
Deerfield, IL

Chicago State University
(20 miles)
Chicago, IL