---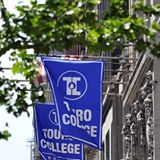 Touro College
Map 27-33 W 23rd St, New York, NY 10010»(212) 463-0400 »http://www.touro.edu
At the Touro Graduate School of Psychology, you can take part in a number of different degrees. These are four Masters of Science (psychology, health counseling, industrial and organizational psychology and school counseling), and a Master of Arts in General Psychology. Touro College is committed to the belief that education improves society as a whole. As such, they ensure you are fully supported in your efforts to complete your degree and that you understand the importance of being able to use your skills to improve the community that you will be serving. This is why there is also a strong focus on multiculturalism.
Interview
This school has not been interviewed yet.
Contact us
if you would be interested in an interview.
Learning Format:
Campus
Accreditation
APA Accredited
Costs
Tuition for full time students (In State): Approximately $ 26,200.00/year
Graduate Out of State Tuition: Approximately $ 26,200.00/year
Average Books/Supplies Cost: $ 1,024.00
Off Campus Room Board Average Cost: $ 8,000.00
* Based on 2012 data
Psychology Degrees Offered:
MS School Psychology
MS Mental Health Counseling
MS School Counseling
MA General Psychology
MS Industrial and Organizational Psychology
Masters of Arts in General Psychology - Behavioral Neuroscience - Clinical Psychology - Cognitive Psychology and Social-Personality Psychology
Behavioral Neuroscience Ph.D. Program
Cognitive Psychology Ph.D. Program
Clinical Ph.D. Program
Social-Personality Ph.D. Program
Reviews
Touro College has no reviews yet.
Tuition & Financial Aid
Campus Setting: City - Large
Inquire for current tuition
Category:
Touro College has programs in the following specializations:
Behavioral Psychology
,
Clinical Psychology
,
Cognitive Psychology
,
General Psychology
,
Industrial/Organizational Psychology
,
Mental Health Psychology
,
School Psychology
,
Social Psychology
Location
Touro College has campus locations in: New York
Nearby Schools for Psychology

New Jersey City University
(5.56 miles)
Jersey City, NJ

CUNY System Office
(2.99 miles)
New York, NY

CUNY Hunter College
(2.25 miles)
New York, NY

CUNY John Jay College of Criminal Justice
(1.95 miles)
New York, NY

CUNY Queens College
(9.14 miles)
Flushing, NY

The New School
(0.54 miles)
New York, NY

New York University
(0.96 miles)
New York, NY

Pace University-New York
(2.29 miles)
New York, NY

Teachers College at Columbia University
(4.95 miles)
New York, NY, Online Option
About This Site
We are an open forum for articles, manuscripts, unpublished thesis, and letters as well as a guide for job, career and program advice from like-minded Graduates. We are seeking submissions that will be of interest to the community.