<!- mfunc search_box_body ->
<!- /mfunc search_box_body ->
Find an Accredited Online Degree Program
<!- mfunc feat_school ->
Featured Programs:
Sponsored School(s)
Sponsored School(s)
All school search, finder, or match results, as well as colleges and universities displayed as "Featured School(s)" or "Sponsored Content" are advertisers that compensate us for placement on this site. The resources, editorial content, and school evaluations published on this site are developed independent of the schools that advertise here.
<!- /mfunc feat_school -> <!- mfunc search_box_body ->
<!- /mfunc search_box_body ->
America's Best Online Graduate Psychology Programs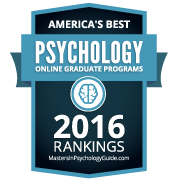 A master's degree in psychology provides advanced training and knowledge for competitive jobs in the field of psychology. As your top source for quality higher education in psychology, we have examined numerous graduate schools in the United States and ranked the best online master's programs in psychology and related fields. This comprehensive list of programs has been carefully selected on the basis of their cost per credit, online reputation judged by students like you, and whether they require you to take the Graduate Record Examination (GRE). To find out more about how we achieved these rankings, see our
Methodology
.
Methodology
Attending graduate school delivers a host of benefits such as career specialization, greater competitiveness for jobs, and practical experience in a given field. Therefore, choosing an online master's program in psychology is not a decision that should be taken lightly. Even when considering a rankings report such as this, students should always get a feel for the college or university as a whole–its culture, its student body, and its ability to offer a dynamic education in your area of interest. Planning a visit to the university and talking one-on-one with faculty and students, even when classes will be taken online, can help you decide whether a school is ultimately the right fit for you.
At MastersinPsychologyGuide.com, we appreciate the seriousness of higher education. In turn, we do not take lightly your willingness to trust that the information we provide is both accurate and unbiased. Our rankings represent 64 colleges and universities in the United States that have online master's programs in psychology. Metrics were divided into three main categories:
affordability
,
reputation
, and
examination requirement
. The weights were quantified as follows:
Cost: We awarded a max 60 points. This criterion was based on the reported tuition cost per credit in Spring 2016 at each individual institution. Where listed, in-state tuition costs were included as a majority of programs charge online students the same price as students with in-state residency. Check with your school to be sure they offer this incentive. We awarded a max 60 points.
Reputation: We awarded a max 30 points. This criterion includes user-generated data about each individual school from the popular ratings site Ratemyprofessor.com. The reputation score is derived from the experiences of real students who have attended these colleges and universities.
Examination requirement: We awarded a max 10 points. This criterion was based on the given program's requirement that qualified students submit a GRE score. Not requiring the GRE means hundreds or thousands of dollars saved on preparation courses and time saved from studying for a standardized test.
Benefits of an Online Education
Do you have a passion for helping people? Is yours an enthusiastic desire for learning and understanding human behavior? If you answered "yes", earning an online master's degree in psychology is a great choice for you. Online learning offers you the option to set your own schedule, "shop" around for schooling in your state and beyond, and maximize from learning from and working alongside students and faculty around the world.
A New Landscape of Distance Learning
Online learning gives students around the globe an opportunity to gain advanced knowledge in their given disciplines without time or geographical constraints. Still, distance learning in the United States is hardly a new concept. The original idea of distance learning in the U.S. was precipitated by a much simpler objective: the need for farmers to access leading information and, thereby, revolutionize their agricultural procedures.
Pennsylvania State University, in 1892, became the first American institution to accommodate the needs of these rural distance learners. Farmers, unable to abandon their fields for higher education, were granted the option to complete assignments through a mail correspondence program.
In comparison, more than a century later, about 85% of all schools offer online courses. In addition, the type of student who pursues distance learning has evolved – those young or old, earning associate's degrees or master's, all have the desire to enhance their educational attainment on their own terms. Due to the scattering of the population in these mainly rural areas, the Plains region of the U.S. continues to lead in its number of exclusively online students (23% in 2012). Nonetheless, students residing in every corner of the country and the globe, and pursuing every discipline from business to psychology are now logging on to attend classes.
Why Study Psychology Online
If you are considering attending graduate school for psychology, but are not quite sold on the viability of an online master's degree, here are the qualities that make distance learning in psychology so attractive.
Flexible Scheduling
It's impossible to discuss the benefits of online learning without listing flexibility. When students take classes online, they are allowed the freedom to choose schedules, courses, professors, and even institutions that suit their particular needs. The CDW-G 21st-Century Campus Report for 2011 showed that 71% of students reported an increased flexibility to take classes due to virtual learning.
Travel abroad to Austria, tour the Sigmund Freud Museum and behold the greatest European collection of books and documents on psychoanalysis while you learn about Freud's approach in your Psychological Theories course. Hold down a job to help with tuition by day and study psychology after work in the evenings. Protect and defend with our country's military and use down time to slowly tick through the requirements for your degree. Pack lunches and help your children dress for school before sitting at the dining room table to complete your own assignments.
Whether you desire to travel, work full-time, or balance school and family life, 62% of adults agree that virtual learning presents the opportunity to juggle various obligations.
Value and Savings
A 2013 Gallup poll showed that Americans believe online education provides either the same (34%), or better (33%) value than a traditional classroom-based education. 51% of college presidents attests to equal value between the two platforms. Fortunately for online students, they may receive a higher, or equal, quality education for less.
Earning your graduate degree in psychology online can result in significant cost savings when compared to a traditional degree. Online students save money on the transportation and room and board required to commute to a brick and mortar institution or stay on campus, and they may also benefit from not being charged additional fees for equipment use. Public institutions may charge online learners an in-state tuition fee rather than the higher cost of out-of-state fees posed to traditional students.
Another potential incentive of online learning for moms and dads? You may be able to complete your assignments at home and save on the cost of child care services.
Global Learning Experience
Traditional students have access to the faculty contracted with their specific institutions. These professional relationships are generally moderated by a geographic location – a professor offers classes at colleges or universities within the cities or towns nearby.
With online learning, your psychology courses could potentially be facilitated by top-rate faculty from around the world. As long as they have the proper credentials, background, and a working internet connection, they can teach. Why does this matter? This means that you have the benefit of learning from individuals from all walks of life and with varying perspectives on their disciplines. What's more, many online courses feature group projects or assignments in which you will also be asked to interact with students from near and far, too.
Fostering relationships with faculty and students beyond your own backyard can translate to lasting professional relationships and networking opportunities when you start thinking about internships or jobs.
Technical Proficiency
Another great advantage to earning a psychology degree online is the technological skills you develop in the process. Online learning requires a fundamental understanding of computing. Students must know how to access the internet, utilize software programs, coordinate and manage their schedules, complete assignments with a range of media, troubleshoot problems or contact the course instructor for help and effectively search for and make use of online resources.
Enrolling in an online degree program for psychology just might give you a leg up with future employers. 21st century employers are looking for candidates who are abreast with the technologies used in a contemporary workplace. The ability to access and make best use of internet resources, create and deliver interactive digital presentations, and video-conference is expectations new employers will have. Getting a head start obtaining these technical skills equates to greater proficiency over time, and the likelihood that you will stand out in a pool of applicants.
Degree Variety
In the CDW-G 21st Century Campus report, 48% students remarked on the enhanced variety of courses available to them through virtual learning. In psychology, the concept of variety spreads you're your actual degree as well.
If you make plans to attend a brick and mortar institution in yours or a surrounding state, you may have a limited degree options to choose from. With that being considered, pursuing a specialty area not provided in your geographic area means you either have to uproot to another part of the country or settle for a similar degree choice. With an online master's degree in psychology, virtually any specialty area can be accessed through online learning.
Click here to learn more about the different specializations in psychology.
Selecting an Online Psychology Program
The Bureau of Labor Statistics anticipates employment for psychologists to grow 19% between 2014 and 2024. Therefore, receiving a graduate education in psychology can result in a rewarding career for you in a range of sectors, including government, schools, private corporations, or community settings.
As you browse through online degree programs in psychology, it is important to carefully consider all the variables before the selecting a school. As discussed, an online master's degree provides flexibility, great quality with financial savings, a global learning experience, the opportunity to become proficient in basic technologies, and a range of degree options. Despite all those benefits, all programs are not created equally.
When researching online graduate degrees in psychology, consider the following:
Institutional accreditation
Faculty experience and research interests
Access to resources, advisors, career counselors and services provided to on-campus students
Ratio of students to faculty in courses
Placement for internships or practicum
Options for certification or licensing
Bridge or dual degree programs
Find out if an online master's degree in psychology is the right choice for you by checking out the wide selection of reputable programs below that are available to potential graduate students.