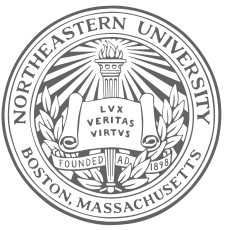 Northeastern University
Map 360 Huntington Ave, Boston, MA 02115-5005» 617-373-2000 » www.northeastern.edu

Northeastern University now offers a Ph.D. in Psychology program. Only a small number of people are admitted to this program each and every year, and they have very stringent requirements before they even consider a candidate. The program itself lasts for five years, with the second year leading to a Master's Degree. Not only does this program have the usual requirements of a Ph.D. program and delivers the knowledge and experience that you would expect, it also has a strong focus on developing your teaching and your research skills, should you wish to work in that particular field.

Interview
This school has not been interviewed yet. Contact us if you would be interested in an interview.
Format
Accreditation
APA Accredited
Psychology Degrees Offered:
Ph.D. in Psychology
Master of Counseling Psychology
Reviews
Northeastern University has no reviews yet.
Tuition & Financial Aid
Campus Setting: City - Large
Student-to-Faculty Ratio: 13 to 1
Total Enrollment: 11054
Inquire for current tuition
Latest News on Google
Category
Northeastern University has programs in the following specializations: General Psychology, Counseling Psychology.
Location
Northeastern University has campus locations in: Massachusetts
Nearby Schools for Psychology

Boston University
(0.87 miles)
Boston, MA
Harvard University
(2.81 miles)
Cambridge, MA

Lesley University
(2.99 miles)
Cambridge, MA, Online Option

Boston College
(4.23 miles)
Chestnut Hill, MA

William James College
(6.07 miles)
Newton, MA, Online Option

Salem State University
(15 miles)
Salem, MA

University of Massachusetts-Lowell
(25 miles)
Lowell, MA

Rivier University
(33 miles)
Nashua, NH, Online Option

Rhode Island College
(39 miles)
Providence, RI, Online Option

Roger Williams University
(49 miles)
Bristol, RI