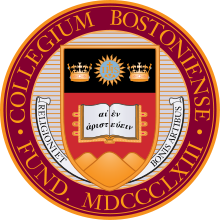 Boston College
Map 140 Commonwealth Avenue, Chestnut Hill, MA 2467» 617-552-8000 » www.bc.edu

The Boston College Department of Psychology offers a Masters program for graduates which runs full time for 2 years, is research focused and consists of a detailed thesis, various coursework and maintaining a supportive role from a dedicated faculty member. The program is only available to a limited number of students and those who are accepted, there are 5 areas of concentration from which candidates can apply and gain a Master of Arts in one. In addition to this, students will have the option to take part in department based disciplinary program. The Masters Program follows the same course as the first 2 years of the Ph.D.

Interview
This school has not been interviewed yet. Contact us if you would be interested in an interview.
Format
Accreditation
APA Accredited
Psychology Degrees Offered:
Masters of Psychology - Behavioral Neuroscience
Masters of Psychology - Cognitive Neuroscience
Masters of Psychology - Developmental Psychology
Masters of Psychology - Quantitative Psychology
Masters of Psychology - Social Psychology
Master of Arts in Counseling Psychology
Master of Arts in School Psychology
Reviews
Boston College has no reviews yet.
Tuition & Financial Aid
Campus Setting: City - Small
Inquire for current tuition
Latest News on Google
Category
Boston College has programs in the following specializations: Behavioral Psychology, Cognitive Psychology, Developmental Psychology, Social Psychology, Counseling Psychology, School Psychology.
Location
Boston College has campus locations in: Massachusetts
Nearby Schools for Psychology

William James College
(2.81 miles)
Newton, MA, Online Option
Harvard University
(3.72 miles)
Cambridge, MA

Boston University
(3.75 miles)
Boston, MA

Lesley University
(4.01 miles)
Cambridge, MA, Online Option

Northeastern University
(4.23 miles)
Boston, MA

Salem State University
(18 miles)
Salem, MA

University of Massachusetts-Lowell
(23 miles)
Lowell, MA

Rivier University
(31 miles)
Nashua, NH, Online Option

Rhode Island College
(37 miles)
Providence, RI, Online Option

Roger Williams University
(48 miles)
Bristol, RI