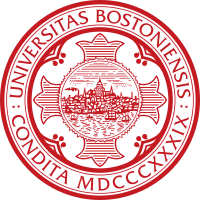 Boston University
Map One Silber Way, Boston, MA 2215» 617-353-2000 » www.bu.edu

The Department of Psychological and Brain Sciences of Boston University provides an 8 course program completed over a 1 year term that grants an MA in Psychology upon graduation. This degree gives students the opportunity to pursue a career in one of the many areas of psychology and build a solid base in methods applied by psychological scientists. Through the investigation of behavioral, societal, and cognitive issues facing society, graduates will gain strength in their specialization and learn how to apply each subject to real life situations. An MA from BU allows students to gain a further understanding in the study of psychology which can be a continuation from an undergraduate field, or a stepping stone toward a doctoral degree.

Interview
This school has not been interviewed yet. Contact us if you would be interested in an interview.
Format
Accreditation
APA Accredited
Psychology Degrees Offered:
Master of Arts in Psychology
PhD in Clinical Psychology
PhD in Psychology
Reviews
Boston University has no reviews yet.
Tuition & Financial Aid
Campus Setting: City - Large
Student-to-Faculty Ratio: 13 to 1
Total Enrollment: 14297
Inquire for current tuition
Latest News on Google
Category
Boston University has programs in the following specializations: General Psychology, Clinical Psychology.
Location
Boston University has campus locations in: Massachusetts
Nearby Schools for Psychology

Northeastern University
(0.87 miles)
Boston, MA
Harvard University
(1.96 miles)
Cambridge, MA

Lesley University
(2.15 miles)
Cambridge, MA, Online Option

Boston College
(3.75 miles)
Chestnut Hill, MA

William James College
(5.92 miles)
Newton, MA, Online Option

Salem State University
(15 miles)
Salem, MA

University of Massachusetts-Lowell
(24 miles)
Lowell, MA

Rivier University
(32 miles)
Nashua, NH, Online Option

Rhode Island College
(40 miles)
Providence, RI, Online Option

Roger Williams University
(49 miles)
Bristol, RI