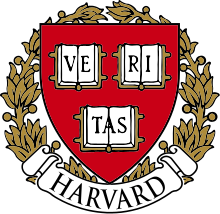 Harvard University
Map Massachusetts Hall, Cambridge, MA 2138» 617-495-1000 » www.harvard.edu

Harvard University currently offers degree programs in psychology, designed specifically for those who intend to go on to a doctoral degree. The degree places specific emphasis on academic careers and this is why teaching is an integral part of the program. Various different research themes are on offer through Harvard University, which range from animal learning and condition to thought disorders, and from genetics and individual differences to learning and memory. As a student, you will have to complete both a first and second year project and you must complete your Ph.D. program in less than six years, before you take part in the internship.

Interview
This school has not been interviewed yet. Contact us if you would be interested in an interview.
Format
Accreditation
APA Accredited
Psychology Degrees Offered:
Master of Arts Psychology
Master of Arts Counseling Psychology
Master of Arts Counseling Psychology with School Psychology Certification
Master of Arts CounselingÊPsychology with Elementary School Counselor Certification
Master of Arts CounselingÊPsychology with Secondary School Counselor Certification
Reviews
Harvard University has no reviews yet.
Tuition & Financial Aid
Campus Setting: City - Midsize
Student-to-Faculty Ratio: 7 to 1
Total Enrollment: 17583
Inquire for current tuition
Latest News on Google
Category
Harvard University has programs in the following specializations: General Psychology, Counseling Psychology, School Psychology.
Location
Harvard University has campus locations in: Massachusetts
Nearby Schools for Psychology

Lesley University
(0.31 miles)
Cambridge, MA, Online Option

Boston University
(1.96 miles)
Boston, MA

Northeastern University
(2.81 miles)
Boston, MA

Boston College
(3.72 miles)
Chestnut Hill, MA

William James College
(6.42 miles)
Newton, MA, Online Option

Salem State University
(15 miles)
Salem, MA

University of Massachusetts-Lowell
(22 miles)
Lowell, MA

Rivier University
(30 miles)
Nashua, NH, Online Option

Rhode Island College
(41 miles)
Providence, RI, Online Option

Southern New Hampshire University
(49 miles)
Manchester, NH