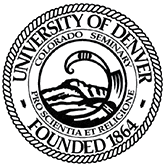 University of Denver
Map 2199 S. University Blvd, Denver, CO 80208» 303-871-2000 » www.du.edu

At the University of Denver, you can attend the graduate school of professional psychology, which allows you to work towards four different degrees. These are the Psy.D. in Clinical Psychology, and the MA in Psychology (clinical, forensic, international disaster or sports and performance). The University is committed to delivering a learning environment that is fully supportive of you as a student. Additionally, their goal is to make sure that their alumni are able to make a true impact on local and global communities. To achieve this, they have a strong focus on ensuring students are able to work in a variety of fields across the world.

Interview
This school has not been interviewed yet. Contact us if you would be interested in an interview.
Format
Accreditation
APA Accredited
Psychology Degrees Offered:
MasterÕs in Forensic Psychology (MAFP)
Ph.D. in Clinical Counseling Developmental Social - Decision - Organizational Science (SDOS)
Reviews
University of Denver has no reviews yet.
Tuition & Financial Aid
Campus Setting: City - Large
Inquire for current tuition
Latest News on Google
Category
University of Denver has programs in the following specializations: Forensic Psychology, Social Psychology.
Location
University of Denver has campus locations in: Colorado
Nearby Schools for Psychology

Aspen University
(1.42 miles)
Denver, CO

University of Colorado Denver
(3.94 miles)
Denver, CO
Colorado Christian University (7.01 miles)
Lakewood, CO, Online Option

Colorado State University-Global Campus
(7.25 miles)
Greenwood Village, CO

Naropa University
(27 miles)
Boulder, CO

University of Northern Colorado
(51 miles)
Greeley, CO
University of Colorado Colorado Springs
(56 miles)
Colorado Springs, CO

University of the Rockies
(60 miles)
Denver, CO

Colorado State University-Fort Collins
(61 miles)
Fort Collins, CO, Online Option

University of Wyoming
(116 miles)
Laramie, WY