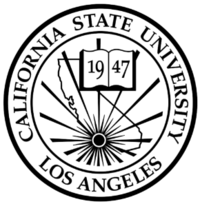 California State University-Los Angeles
Map 5151 State University Dr, Los Angeles, CA 90032» 323-343-3000 » www.calstatela.edu

At the California State University in Los Angeles, you can take part in an MA in Psychology program. Completing the degree includes having to do a full thesis, for which you will be mentored. The program does allow you to start employment in a psychological field, but it is designed with a focus on those who wish to continue on to a doctoral program later on. California State University aims to provide you with the opportunity to excel in your educational career, which they achieve by employing excellent teachers, having fantastic research facilities, practice options and full scholarships for certain students.

Interview
This school has not been interviewed yet. Contact us if you would be interested in an interview.
Format
Accreditation
APA Accredited
Psychology Degrees Offered:
Master of Arts in Psychology
Master of Arts Child Development Program
Masters of Science Clinical/Counseling Program
Master of Arts General/Experimental Program
Masters of Science Industrial/Organizational Program
Reviews
California State University-Los Angeles has no reviews yet.
Tuition & Financial Aid
Campus Setting: City - Large
Inquire for current tuition
Latest News on Google
Category
California State University-Los Angeles has programs in the following specializations: General Psychology, Counseling Psychology, Mental Health Psychology, Industrial/Organizational Psychology.
Location
California State University-Los Angeles has campus locations in: California
Nearby Schools for Psychology

Fuller Theological Seminary in California
(5.82 miles)
Pasadena, CA

University of Southern California
(7.30 miles)
Los Angeles, CA

California State University-Dominguez Hills
(15 miles)
Carson, CA, Online Option

Loyola Marymount University
(16 miles)
Los Angeles, CA

University of California Los Angeles
(16 miles)
Los Angeles, CA

Azusa Pacific University
(17 miles)
Azusa, CA

Mount St. Mary's College
(18 miles)
Los Angeles, CA

Touro University Worldwide
(19 miles)
Los Alamitos, CA, Online Option

California State University-Long Beach
(20 miles)
Long Beach, CA

California State Polytechnic University-Pomona
(20 miles)
Pomona, CA