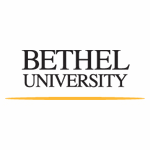 Bethel University
Map 3900 Bethel Dr, Saint Paul, MN 55112» 651-638-6400 » www.bethel.edu

Bethel University currently offers a Master of Arts degree in counseling psychology. This will teach you to offer counseling in various settings, including community, health care settings and schools for example. Additionally, the program is designed to help you on your path towards a doctoral study in psychology should you choose to follow this path. The school uses Christian teachings and focuses on applying faith to counseling practices. The focus is strongly on helping you to develop your own Christian mind, and how this faith can assist in terms of developing greater mental well-being. The degree is accredited and will allow you to be licensed as an LPC in Minnesota.

Interview
This school has not been interviewed yet. Contact us if you would be interested in an interview.
Format
Accreditation
APA Accredited
Psychology Degrees Offered:
Master of Arts in Counseling Psychology
Masters of Psychology - Behavioral Neuroscience
Masters of Psychology - Cognitive Neuroscience
Masters of Psychology - Developmental Psychology
Masters of Psychology - Quantitative Psychology
Masters of Psychology - Social Psychology
Reviews
Bethel University has no reviews yet.
Tuition & Financial Aid
Campus Setting: Suburb - Large
Inquire for current tuition
Latest News on Google
Category
Bethel University has programs in the following specializations: Counseling Psychology, Behavioral Psychology, Cognitive Psychology, Developmental Psychology, Social Psychology.
Location
Bethel University has campus locations in: Minnesota
Nearby Schools for Psychology

University of Minnesota
(6.61 miles)
Minneapolis, MN

Walden University
(7.41 miles)
Minneapolis, MN

Capella University
(7.73 miles)
Minneapolis, MN

University of St. Thomas
(8.11 miles)
Saint Paul, MN

Saint Cloud State University
(59 miles)
Saint Cloud, MN

Minnesota State University-Mankato
(75 miles)
Mankato, MN

Saint Mary's University of Minnesota
(100 miles)
Winona, MN

University of Northern Iowa
(179 miles)
Cedar Falls, IA, Online Option

University of Wisconsin-Stevens Point
(180 miles)
Stevens Point, WI