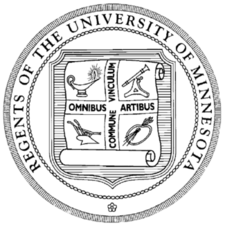 University of Minnesota
Map 100 Church Street SE, Minneapolis, MN 55455-0213» 612-625-5000 » www1.umn.edu/twincities/index.php

The University of Minnesota currently offers eight different specializations when it comes to psychology graduate programs. Some of these include clinical and counseling psychology and quantitative modeling of individual differences, to name but a few. Additionally, they offer two different Ph.D. programs, being in counseling psychology and in clinical psychology. The broad spectrum of these courses is available because psychology is such a broad field. Hence, although you will be provided with the same core of knowledge regardless of the specialization you choose, you will also go more in-depth in a specific part of psychology. The university also has a strong commitment to diversity.

Interview
This school has not been interviewed yet. Contact us if you would be interested in an interview.
Format
Accreditation
APA Accredited
Psychology Degrees Offered:
Ph.D. in Clinical Psychology
Master of Arts Educational Psychology
Reviews
University of Minnesota has no reviews yet.
Tuition & Financial Aid
Campus Setting: City - Large
Student-to-Faculty Ratio: 18 to 1
Total Enrollment: 17384
Inquire for current tuition
Latest News on Google
Category
University of Minnesota has programs in the following specializations: Clinical Psychology, Educational Psychology.
Location
University of Minnesota has campus locations in: Minnesota
Nearby Schools for Psychology

Walden University
(1.52 miles)
Minneapolis, MN

Capella University
(1.63 miles)
Minneapolis, MN

University of St. Thomas
(3.36 miles)
Saint Paul, MN

Bethel University
(6.61 miles)
Saint Paul, MN

Saint Cloud State University
(60 miles)
Saint Cloud, MN

Minnesota State University-Mankato
(69 miles)
Mankato, MN

Saint Mary's University of Minnesota
(99 miles)
Winona, MN

University of Northern Iowa
(175 miles)
Cedar Falls, IA, Online Option

University of Wisconsin-Stevens Point
(182 miles)
Stevens Point, WI