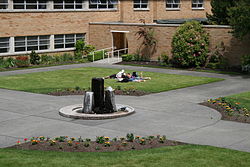 Bastyr University
Map 14500 Juanita Drive NE, Kenmore, WA 98028-4966» 425-602-3000 » www.bastyr.edu

Bastyr University currently offers an MA in Counseling Psychology. This degree is designed for those who want to work directly in the community, helping other people better understand themselves and others, and building more meaningful relationships. There are various employment options in which this degree could come in handy, from private practice to doctoral studies. The university is committed to sustainability and eco-produce, which means they have a strong focus on teaching you how to be greener and cleaner, and the influence of natural products on health (physical and mental) and overall well-being. Indeed, there is even a herb garden on campus.

Interview
This school has not been interviewed yet. Contact us if you would be interested in an interview.
Format
Accreditation
APA Accredited
Psychology Degrees Offered:
Master's in Counseling Psychology
Master's in Nutrition & Clinical Psychology
Graduate Certificate in Family Studies
Reviews
Bastyr University has no reviews yet.
Tuition & Financial Aid
Campus Setting: Suburb - Large
Inquire for current tuition
Latest News on Google
Category
Bastyr University has programs in the following specializations: Counseling Psychology, Clinical Psychology.
Location
Bastyr University has campus locations in: Washington
Nearby Schools for Psychology

Northwest University
(5.72 miles)
Kirkland, WA, Online Option

Seattle Pacific University
(7.60 miles)
Seattle, WA, Online Option

Seattle University
(8.86 miles)
Seattle, WA, Online Option
City University of Seattle (8.86 miles)
Seattle, WA, Online Option

Western Washington University
(70 miles)
Bellingham, WA, Online Option

Central Washington University
(95 miles)
Ellensburg, WA

Portland State University
(155 miles)
Portland, OR

Pacific University
(158 miles)
Forest Grove, OR