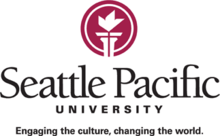 Seattle Pacific University
Map 3307 3rd Ave W, Seattle, WA 98119-1997» 206-281-2000 » www.spu.edu

Seattle Pacific University is a great place to go if you wish to obtain an MA in Industrial/Organizational Psychology. This degree will help to prepare you for a career in business, be that on a HR level, a recruitment and selection company or even as an organizational counselor. It is all about understanding behavior in the workplace and how this can affect productivity. To complete the degree, you will have to complete a Master's project, which will require you to actually work within an organizational psychology setting. Seattle Pacific University is all about engaging communities, and thereby changing the world.

Interview
This school has not been interviewed yet. Contact us if you would be interested in an interview.
Format
Accreditation
APA Accredited
Psychology Degrees Offered:
Masters in Industrial/Organizational Psychology
Doctorate in Industrial/Organizational Psychology
MS in Psychology
Reviews
Seattle Pacific University has no reviews yet.
Tuition & Financial Aid
Campus Setting: City - Large
Inquire for current tuition
Latest News on Google
Category
Seattle Pacific University has programs in the following specializations: Industrial/Organizational Psychology, General Psychology.
Location
Seattle Pacific University has campus locations in: Washington, Online
Nearby Schools for Psychology
City University of Seattle (2.33 miles)
Seattle, WA, Online Option

Seattle University
(3.37 miles)
Seattle, WA, Online Option

Bastyr University
(7.60 miles)
Kenmore, WA

Northwest University
(8.00 miles)
Kirkland, WA, Online Option

Western Washington University
(75 miles)
Bellingham, WA, Online Option

Central Washington University
(96 miles)
Ellensburg, WA

Portland State University
(149 miles)
Portland, OR

Pacific University
(151 miles)
Forest Grove, OR