The U.S. Bureau of Labor Statistics has projected that the field of social work will grow by around 20% over the next ten years. The average salary is just over $44,000 per year, which is not as high as most would expect. Nevertheless, salary is on the increase and different areas of social work earn more.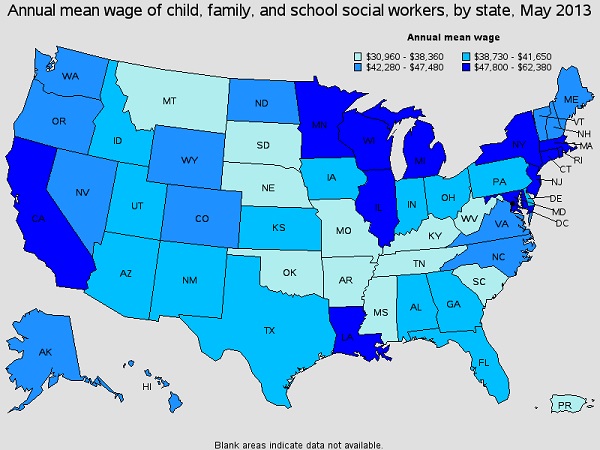 Becoming a Social Worker
Before looking at the best & highest paying social work careers, it is important to understand the field of social work itself. Generally speaking, you will need at least a bachelor's degree to be able to work in this field, with most states even requiring a master's degree. But there are a few states that allow an associate's degree in the field of social work as well. Naturally, the higher your education, the higher your salary too. And, indeed, it is the very disparity in requirements between states that is causing the average salary of social workers to appear quite low, as many earn well above this. So what are the top 7 best and highest paying social work careers that you can choose from aside from the general social worker?
1. School Counselors
School Counselors are often social workers. Their role is to work directly with children across all educational establishments. Their goal is to make sure that the mental health and overall well-being of pupils are either maintained or improved. Often, they will work closely together with children who are burdened with social or developmental delays, or children who live in abusive households. The salary of a school counselor varies mainly depending on the educational establishment, the types of students and the geographical location. However, the national average stands at $56,160. To be a school counselor, you will need a master's degree at least.
<!- mfunc search_btn -> <!- /mfunc search_btn ->
2. Speech Pathologists
The role of speech pathologists is to ensure that speech disorders are diagnosed. They then spend time creating individual treatment plans that are designed to improve the speech of their patients. Although a lot of work is done with children born with speech disorders, such as those with a harelip, cleft palate or stutter, speech pathologists also frequently work with stroke victims and people with brain injuries. As a speech pathologist, you can expect to earn around $73,970, which is a huge jump since the last average was calculated in 2010. To become a speech pathologist, you will generally require a master's degree as well as a range of other training. This includes passing a national examination to become licensed, a set number of hours working clinically under direct supervision and a set amount of postgraduate experience. Requirements do vary on a state by state basis.
3. The Social Work Teacher
As a social work teacher, you can expect to earn on average $86,073 per year as a professor. An assistant professor will earn less. This does make it the highest paying job in social work in the country. However, to be a professor, you will need to hold at least a doctorate degree, usually a Ph.D. in the field. Indeed, training will take a lot of time and also requires quite an expensive investment.
4. The Healthcare Social Worker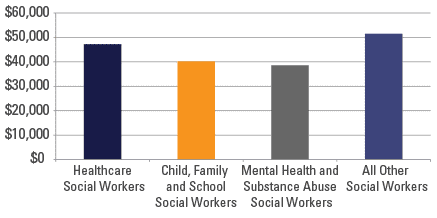 As a healthcare social worker, you will help groups and individuals to cope with the psychological and social aspects of diseases and illnesses. The salary averages at $57,000 per year. Although this work can be done with a BSW, holding a master's degree will certainly improve your career and salary prospects.
5. The Medical Social Worker
The medical social worker is different from the healthcare social worker. Your role here is to liaise between community services (rehab facilities, homeless shelters and so on) and their clients. You will often be employed in emergency rooms or on discharge wards. According to the U.S Bureau of Labor Statistics, the salary averages at $53,400. This is significantly higher compared to that of the general social worker.
6. The Clinical Social Worker
Clinical social workers require a great degree of training and need to pass a variety of exams. They work in many different fields and agencies. Their average salary is $48,010 according to the U.S. Bureau of Labor Statistics, although their place of employment makes this vary significantly. For instance, those in substance abuse will earn around $3,000 per year less.
7. The Community Program Administrator
Finally, there are social workers who want to go into management, which is possible through community program administration. Here, they will head social service programs or nonprofit agencies focusing on serving specific population groups. Your role here is to develop and manage strategic plans, raise funds, direct staff and control a budget. According to the U.S. Bureau of Labor Statistics, you can expect to earn around $57,950 per year.