WHAT WE DO
A developmental psychologist is a professional who researches how humand develop across the entire lifespan. Some developmentall psychologists specialize in one particular time period of development.
WORK ENVIRONMENT
A developmental psychologist can work either in private practice or for a university or school.
HOW TO BECOME
A Ph.D. is required for most positions in this field.
JOB OUTLOOK
Psychologists will see a 12% increase in job demand by 2022, which is about average when compared to other professions.
OVERVIEW
From the moment we are born, we start a road of major developmental changes and this doesn't stop until the day we die. Developmental changes are generally referred to as milestones, which means that a person has reached a true turning point in his or her life. Most of these occur during our early childhood, through to adolescence and include such things as first steps, first words and puberty. However, adults also encounter various milestones, although they are often not as prominent. Getting married, having children, going through menopause or a midlife crisis, retiring and so on are all huge milestones in a person's development.
Someone with a masters in developmental psychology studies how a human being grows and develops. This includes their mental, physical, intellectual, emotional and social development. By looking into these changes, they can gain a greater understanding of the things a human being goes through during their life and they can help others to better manage themselves during these changes.
Development psychology's forefather is Jean Jacques Rousseau. During the 18th century, he suggested that there were three specific stages that everyone goes through during their childhood. These are infancy, childhood and adolescence. These ideas have stuck and have been built on for hundreds of years, until Erik Erickson expounded on them in the 20th century, describing various stages during adulthood as well.
Salary Feature
According to the Occupational Outlook Handbook, the median salaries for someone with a masters in developmental psychology will vary depending on where they work. They are listed as follows:
Elementary and secondary schools: $65,710
Offices and health practices: $68,400
Outpatient care: $59,130
State government: $63,710
Family and individual services: $57,440
About Developmental Psychology
If you are interested in a career in developmental psychology, the most common process would be to start with a four-year bachelor program. However, to actually get to work in the field, you are likely to also need a master's degree and, in some cases, even a doctorate degree. Indeed, the majority of people with a master's in developmental psychology go on to study towards their Ph.D. later on.
<!- mfunc search_btn -> <!- /mfunc search_btn ->
There are now also a number of direct entry master's degree programs, as well as accelerated programs that allow you to complete the degree in much less time. Finally, many schools now offer online programs, although it is generally required to gain practical experience in this field as well.
If you want to become a researcher in the field of developmental psychology, a Ph.D. will be required. Furthermore, there are a number of developmental disorders that can only be treated by those with a Ph.D. It generally takes up to six years to complete a doctorate.
What Jobs Does This Lead To?
The specialty area in which you work will greatly determine the tasks you will be doing. Your focus could be on a specific population, such as children with developmental delays. Or perhaps you have specialized in certain age ranges, such as old age, adolescence or infancy. However, a number of tasks are commonly seen in the world of developmental psychology, and these include:
Evaluating patients, children in particular, to determine whether they have any developmental delays or disabilities.
Investigating how people acquire the skill of language across a range of different age groups.
Studying how children start to develop moral reasoning.
Exploring tools, methods and processes that will enable the elderly to retain their independence as long as possible.
As a developmental psychologist, it is likely that you will focus mainly on a certain age or stage. This could be anything from infancy to the golden years. The duties and responsibilities you will have vary accordingly. Naturally, you will not work with babies if you have specialized in teens and adolescence. However, you will generally work closely with actual people, developing tests and measuring activities relating specifically to your specialization.
There are a number of different locations where development psychologists are in high demand. These include:
Schools and learning centers, hospitals, children's homes, mental health facilities and retirement and nursing homes.
Educational institutions and universities, where you can teach and perform research. However, a Ph.D. is generally required for these positions.
Government agencies, including education and health departments.
Salary Prospects
The median annual salary for a developmental psychologist is hard to determine due to the fact that there are so many variables. The degree you have and the specialization will also be important factors, as is your overall resume. The U.S. Bureau of Labor Statistics has stated that the median annual salary for all psychologists was $86,510 in 2010. It is believed that most developmental psychologists are pretty close to this median mark. However, there are some variations. Those who work in a substance abuse clinic, for instance, can expect to earn around $69,150. Those who work in a physician's office, on the other hand, can expect to earn around $109,600.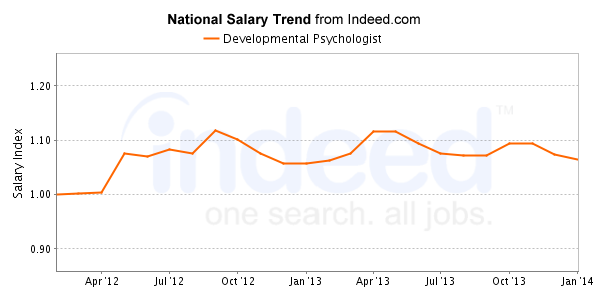 Job Outlook
Job growth is expected to be average over the next 10 years according to the U.S. Bureau of Labor Statistics. But the demand for people to be able to assess and evaluate, treat and diagnose people who have developmental issues will not go away. According to the Occupational Outlook Handbook, there will be an increased demand in geropsychology, as the population is aging and they have to deal with increasingly significant developmental stages. Furthermore, it is believed there will be an increased demand in those who can work with returning veterans as well.
<!- mfunc search_btn -> <!- /mfunc search_btn ->
References:
http://www.bls.gov/ooh/life-physical-and-social-science/psychologists.htm
http://psychology.about.com/od/psychologycareerprofiles/a/developmental-psychologist.htm
http://www.bls.gov/ooh/a-z-index.htm