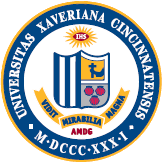 Xavier University
Map 3800 Victory Parkway, Cincinnati, OH 45207-1092» 513-745-3000 » www.xavier.edu

Xavier University has provided graduate level studies since it initiated the masters of arts program in 1962, The program builds a strong foundation for research of which applied skills are built, adhering to a practitioner-scientist arrangement. Students can choose from concentrations of General Experimental Psychology, Industrial-Organizational Psychology, or the Doctoral program for Clinical Psychology. The General Experimental Psychology program prepares students to work in areas such as psychological research and market research where the Industrial-Organizational program applies a balanced approach to both practical application as well as research. Xavier's Doctoral Program for Clinical Psychology provides students with the skills required to practice in the field of Clinical Psychology.

Interview
This school has not been interviewed yet. Contact us if you would be interested in an interview.
Format
Accreditation
APA Accredited
Psychology Degrees Offered:
MA General Experimental Psychology
M.A. In Psychology- Behavioral Science Negotiation and Conflict Management
Reviews
Xavier University has no reviews yet.
Tuition & Financial Aid
Campus Setting: City - Large
Inquire for current tuition
Latest News on Google
Category
Xavier University has programs in the following specializations: Mental Health Psychology, Behavioral Psychology.
Location
Xavier University has campus locations in: Ohio, Online
Nearby Schools for Psychology

Union Institute & University
(1.96 miles)
Cincinnati, OH

University of Cincinnati-Main Campus
(2.33 miles)
Cincinnati, OH

University of Dayton
(44 miles)
Dayton, OH

Antioch University-System Administration
(54 miles)
Yellow Springs, OH

University of Kentucky
(77 miles)
Lexington, KY

Morehead State University
(87 miles)
Morehead, KY

Ball State University
(88 miles)
Muncie, IN, Online Option
Ohio Christian University (90 miles)
Circleville, OH, Online Option

University of Indianapolis
(97 miles)
Indianapolis, IN

Franklin University
(97 miles)
Columbus, OH