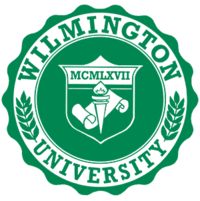 Wilmington University
Map 320 Dupont Hwy, New Castle, DE 19720» 877-967-5464 » www.wilmu.edu

The Bachelor of Science in Psychology degree provided by Wilmington University gives students an in-depth education in how humans think and behave. Expert faculty, well versed in their field give a firm base of general psychology practice and theory to prepare graduates for successful careers in community relations, human services, or for more advanced degrees in graduate programs. Wilmington University also gives graduates the opportunity to participate in a variety of certificate programs and specialized fields of expertise such as their Master of Science, Clinical Mental health Counseling degree, Post Master's Mental Health Counseling degree, and Post Master's Child and Family counseling degree.

Interview
This school has not been interviewed yet. Contact us if you would be interested in an interview.
Format
Accreditation
APA Accredited
Psychology Degrees Offered:
Master of Science
Clinical Mental Health Counseling
Post Master's Mental Health Counseling
Post Master's Child and Family Counseling
Master of Education in Educational Psychology
Reviews
Wilmington University has no reviews yet.
Tuition & Financial Aid
Campus Setting: Suburb - Large
Inquire for current tuition
Latest News on Google
Category
Wilmington University has programs in the following specializations: Mental Health Psychology, Counseling Psychology, Educational Psychology.
Location
Wilmington University has campus locations in: Delaware, Online
Nearby Schools for Psychology

University of Delaware
(8.86 miles)
Newark, DE

Immaculata University
(24 miles)
Immaculata, PA

Villanova University
(28 miles)
Villanova, PA

Drexel University
(28 miles)
Philadelphia, PA

Saint Joseph's University
(28 miles)
Philadelphia, PA

Philadelphia College of Osteopathic Medicine
(30 miles)
Philadelphia, PA

La Salle University
(34 miles)
Philadelphia, PA

Chestnut Hill College
(34 miles)
Philadelphia, PA

Arcadia University
(36 miles)
Glenside, PA

Millersville University of Pennsylvania
(46 miles)
Millersville, PA