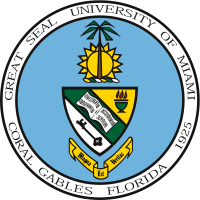 University of Miami
Map University of Miami, Coral Gables, FL 33146» 305-284-2211 » www.miami.edu/

The department of Psychology within the University of Miami is a dynamic educational force designed to balance multiple academic factors including research applications, faculty development, undergraduate teaching, graduate training, professional training, and more within the bio behavioral sciences. The University strives to provide public services to children and families through contracts with the public schools and juvenile justice system of South Florida, and trains students to work closely within the field of health intervention in both adults and children. With thirty eight faculty members and one hundred and twenty staff members, the Clinical Psychology Graduate program at Miami was ranked twenty fifth in the United States by the U.S. News and World Report.

Interview
This school has not been interviewed yet. Contact us if you would be interested in an interview.
Format
Accreditation
APA Accredited
Psychology Degrees Offered:
Master of Science in Psychology
Master of Science in Clinical Health Psychology
Masterof Science in Health Psychology
Master of Arts in Forensic Psychology
Reviews
University of Miami has no reviews yet.
Tuition & Financial Aid
Campus Setting: Suburb - Large
Student-to-Faculty Ratio: 11 to 1
Total Enrollment: 5582
Inquire for current tuition
Latest News on Google
Category
University of Miami has programs in the following specializations: General Psychology, Health Psychology, Forensic Psychology.
Location
University of Miami has campus locations in: Florida, Online
Nearby Schools for Psychology

Florida International University
(6.79 miles)
Miami, FL

Barry University
(12 miles)
Miami, FL

Nova Southeastern University
(25 miles)
Fort Lauderdale, FL

Florida Atlantic University
(46 miles)
Boca Raton, FL

Florida Institute of Technology
(163 miles)
Melbourne, FL