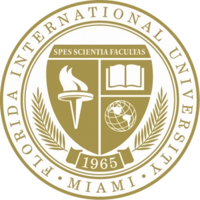 Florida International University
Map 11200 S. W. 8 Street, Miami, FL 33199» 305-348-2000 » www.fiu.edu

Florida International University offers a Master of Science in Psychology which is designed to train future practitioners and researchers, The curriculum is intended to supply students with a knowledge of the basic principles of psychology over a minimum of 36 credit hours of approved courses. Students are required to take part in field work and choose electives and thesis topics. There are 2 areas of specialization offered, Counseling Psychology provides students with skills and training needed to complete a final exam and obtain a license to practice. The Legal Psychology Program is aimed at those taking a law degree alongside the M.S. in Psychology.

Interview
This school has not been interviewed yet. Contact us if you would be interested in an interview.
Format
Accreditation
APA Accredited
Psychology Degrees Offered:
Master of Science in Psychology
Masters of Science in Applied Psychology
Reviews
Florida International University has no reviews yet.
Tuition & Financial Aid
Campus Setting: Suburb - Large
Student-to-Faculty Ratio: 26 to 1
Total Enrollment: 8696
Inquire for current tuition
Latest News on Google
Category
Florida International University has programs in the following specializations: General Psychology, Applied Psychology.
Location
Florida International University has campus locations in: Florida
Nearby Schools for Psychology

University of Miami
(6.79 miles)
Coral Gables, FL, Online Option

Barry University
(14 miles)
Miami, FL

Nova Southeastern University
(24 miles)
Fort Lauderdale, FL

Florida Atlantic University
(46 miles)
Boca Raton, FL

Florida Institute of Technology
(160 miles)
Melbourne, FL

University of South Florida-St. Petersburg
(196 miles)
St. Petersburg, FL