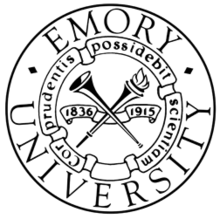 Emory University
Map 408 Administration Building, 201 Dowman Drive, Atlanta, GA 30322» 404-727-6123 » www.emory.edu

Emory University's Department of Psychology has three different programs available for graduates, these are Clinical, Cognition and Development and Neuroscience and Animal Behavior. To study at a Doctoral level students will first need to achieve a Masters Degree after which they will need to take a qualifying exam and then begin research into a specialized dissertation which will eventually lead to a Doctoral Degree. The whole program lasts between five and seven years on a full time basis and is a perfect match for those looking for a successful research based career with a strong background in competent Clinical Psychology practice.

Interview
This school has not been interviewed yet. Contact us if you would be interested in an interview.
Format
Accreditation
APA Accredited
Psychology Degrees Offered:
Doctor of Philosophy in Clinicial Psychology
Doctor of Philosophy in Cognition and Development
Doctor of Philosophy in Neuroscience and Animal Behavior
Masters Degree in Community Psychology
Reviews
Emory University has no reviews yet.
Tuition & Financial Aid
Campus Setting: Suburb - Large
Student-to-Faculty Ratio: 8 to 1
Total Enrollment: 6580
Inquire for current tuition
Latest News on Google
Category
Emory University has programs in the following specializations: Clinical Psychology.
Location
Emory University has campus locations in: Georgia
Nearby Schools for Psychology

Georgia Institute of Technology-Main Campus
(4.39 miles)
Atlanta, GA, Online Option

Georgia State University
(4.73 miles)
Atlanta, GA
Luther Rice University & Seminary (14 miles)
Lithonia, GA, Online Option

University of West Georgia
(47 miles)
Carrollton, GA

University of Georgia
(56 miles)
Athens, GA

Clemson University
(105 miles)
Clemson, SC

Auburn University
(107 miles)
Auburn University, AL

Western Carolina University
(123 miles)
Cullowhee, NC

Auburn University at Montgomery
(146 miles)
Montgomery, AL
Amridge University (146 miles)
Montgomery, AL, Online Option