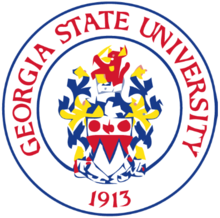 Georgia State University
Map 33 gilmer st, Atlanta, GA 30303-3083» 404-413-2000 » www.gsu.edu

The Georgia State University's Psychology Department plays home to 41 distinguished faculty members as well as 9 appointees ready to help students achieve their educational and professional goals. Similar to other University programs, the MA program at GSU provides training in general sciences, research methodology, and assists students in performing crucial roles throughout their community. Georgia State also provides unique program options unlike alternative institutes such as offering more than 2000 different psychology majors, and supplying undergraduate degrees in both the Bachelor of Arts and Bachelor of Science program to more than 300 students each year. Graduates from Georgia State go on to lead successful lives within the Psychological community.

Interview
This school has not been interviewed yet. Contact us if you would be interested in an interview.
Format
Accreditation
APA Accredited
Psychology Degrees Offered:
PhD in Psychology - Clinical
PhD in Psychology - Cognitive Sciences
PhD in Psychology - Community Developmental
PhD in Psychology - Neuropsychology and Behavioral Neuroscience
Masterof Science Psychology
Reviews
Georgia State University has no reviews yet.
Tuition & Financial Aid
Campus Setting: City - Large
Student-to-Faculty Ratio: 21 to 1
Total Enrollment: 7431
Inquire for current tuition
Latest News on Google
Category
Georgia State University has programs in the following specializations: Clinical Psychology, Cognitive Psychology, Developmental Psychology, Behavioral Psychology, General Psychology.
Location
Georgia State University has campus locations in: Georgia
Nearby Schools for Psychology

Georgia Institute of Technology-Main Campus
(1.55 miles)
Atlanta, GA, Online Option

Emory University
(4.73 miles)
Atlanta, GA
Luther Rice University & Seminary (16 miles)
Lithonia, GA, Online Option

University of West Georgia
(43 miles)
Carrollton, GA

University of Georgia
(60 miles)
Athens, GA

Auburn University
(102 miles)
Auburn University, AL

Clemson University
(109 miles)
Clemson, SC

Western Carolina University
(127 miles)
Cullowhee, NC

Auburn University at Montgomery
(141 miles)
Montgomery, AL
Amridge University (141 miles)
Montgomery, AL, Online Option