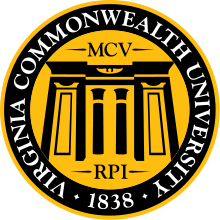 Virginia Commonwealth University
Map 910 W Franklin St, Richmond, VA 23284-2512» 804-828-0100 » www.vcu.edu/

Virginia Commonwealth University offers graduate degrees in psychology through a variety of different specializations. Although it helps to apply with an undergraduate based in a field of Psychology, many students entering Masters Degrees in Psychology come from other academic foundations such as English or Philosophy. Graduate students are expected to complete their program through full-time studies and aren't permitted to apply for external jobs due to the amount of time and energy required to successfully complete a Master's degree. Over the first three years graduate students do receive finances through the program in exchange for work in the form of an apprenticeship.

Interview
This school has not been interviewed yet. Contact us if you would be interested in an interview.
Format
Accreditation
APA Accredited
Psychology Degrees Offered:
Doctor of Philosophy in Clinical Psychology
Doctor of Philosophy in Counseling Psychology
Doctor of Philosophy in Health Psychology
Doctor of Philosophy in Experimental Psychology
Master of Arts Behavior Analysis
Masters in Industrial/Organizational Psychology
Reviews
Virginia Commonwealth University has no reviews yet.
Tuition & Financial Aid
Campus Setting: City - Midsize
Student-to-Faculty Ratio: 18 to 1
Total Enrollment: 7784
Inquire for current tuition
Latest News on Google
Category
Virginia Commonwealth University has programs in the following specializations: Clinical Psychology, Counseling Psychology, Health Psychology, Mental Health Psychology, Industrial/Organizational Psychology.
Location
Virginia Commonwealth University has campus locations in: Virginia
Nearby Schools for Psychology

Virginia State University
(22 miles)
Petersburg, VA

University of Virginia-Main Campus
(66 miles)
Charlottesville, VA, Online Option

Old Dominion University
(78 miles)
Norfolk, VA, Online Option

Norfolk State University
(81 miles)
Norfolk, VA

Regent University
(86 miles)
Virginia Beach, VA

George Mason University
(89 miles)
Fairfax, VA

Institute for the Psychological Sciences (93 miles)
Arlington, VA, Online Option

Liberty University
(96 miles)
Lynchburg, VA, Online Option

George Washington University
(96 miles)
Washington, DC

Georgetown University
(96 miles)
Washington, DC