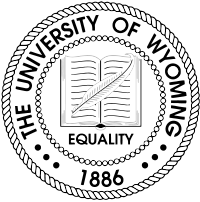 University of Wyoming
Map Corner of Ninth and Ivinson, Laramie, WY 82071» 307-766-1121 » www.uwyo.edu

The University of Wyoming's graduate study program is expected to lead students into a doctoral degree in Psychology, and for this reason students wishing to complete a Master's degree that will terminate at the graduate level are rarely admitted. UW is highly selective and generally only accepts 4 to 6 applicants into the clinical program with an average acceptance rate of 1 to 4 applicants into other specialties. Students will focus on one of four areas including cognitive development, social, law and clinical psychology, and will work toward completion with the mentor ship of a particular faculty member. This member of faculty will supply the lab in which research will be completed throughout the program.

Interview
This school has not been interviewed yet. Contact us if you would be interested in an interview.
Format
Accreditation
APA Accredited
Psychology Degrees Offered:
Master's degree Psychology
Master of Arts in Psychology
Reviews
University of Wyoming has no reviews yet.
Tuition & Financial Aid
Campus Setting: Town - Remote
Inquire for current tuition
Latest News on Google
Category
University of Wyoming has programs in the following specializations: General Psychology.
Location
University of Wyoming has campus locations in: Wyoming
Nearby Schools for Psychology

Colorado State University-Fort Collins
(57 miles)
Fort Collins, CO, Online Option

University of Northern Colorado
(78 miles)
Greeley, CO

Naropa University
(91 miles)
Boulder, CO

University of Colorado Denver
(112 miles)
Denver, CO
Colorado Christian University (113 miles)
Lakewood, CO, Online Option

Aspen University
(116 miles)
Denver, CO

University of Denver
(116 miles)
Denver, CO

Colorado State University-Global Campus
(123 miles)
Greenwood Village, CO
University of Colorado Colorado Springs
(172 miles)
Colorado Springs, CO

University of the Rockies
(176 miles)
Denver, CO