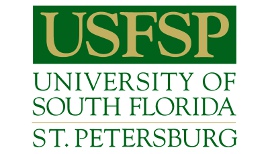 University of South Florida-St. Petersburg
Map 140 Seventh Ave S., St. Petersburg, FL 33701-9807» 727-873-4873 » www.usfsp.edu

At the University of South Florida - St. Petersburg location, you can study towards an MA in Psychology. This looks at all elements of the human mind and behavior, being biological, developmental, social and cognitive. Additionally, it looks at how these different elements related to chronic diseases and other health problems. A strong focus is placed on research, as well as conducting and applying data. There are two options to choose from, being thesis or non-thesis, and both options include a range of different elective courses to work with. Additionally, the focus of the school is very strongly on risk, resilience and prevention, which means you will learn about dealing with specific community programs.

Interview
This school has not been interviewed yet. Contact us if you would be interested in an interview.
Format
Accreditation
APA Accredited
Psychology Degrees Offered:
Master of Arts in Psychology
Masters in Psychology
Reviews
University of South Florida-St. Petersburg has no reviews yet.
Tuition & Financial Aid
Campus Setting: City - Midsize
Inquire for current tuition
Latest News on Google
Category
University of South Florida-St. Petersburg has programs in the following specializations: General Psychology.
Location
University of South Florida-St. Petersburg has campus locations in: Florida
Nearby Schools for Psychology

University of Central Florida
(105 miles)
Orlando, FL

Florida Institute of Technology
(125 miles)
Melbourne, FL

University of Florida
(131 miles)
Gainesville, FL

Florida Atlantic University
(183 miles)
Boca Raton, FL

University of North Florida
(186 miles)
Jacksonville, FL

Nova Southeastern University
(188 miles)
Fort Lauderdale, FL

Florida International University
(196 miles)
Miami, FL

Barry University
(199 miles)
Miami, FL