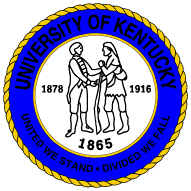 University of Kentucky
Map South Limestone, Lexington, KY 40506-0032» 859-257-9000 » www.uky.edu

The University of Kentucky offers a 36 hour credit Master of Science in Education program that is aimed to prepare students in continuing academics through a Ph.D. degree in Counseling Psychology, as well as other degrees in the professional psychology world. An MA from UK also allows students pursuing certification in their state to create the foundation necessary to continue toward licensed status. Those seeking licensing are expected to complete extra course work and participate in an internship in their selected field of expertise through an Educational Specialist degree which can be applied for after completion of an MA. Kentucky's Master's program is a full-time study program consisting of 2 to 2.5 study years with a 9 credit minimum over the period of each semester.

Interview
This school has not been interviewed yet. Contact us if you would be interested in an interview.
Format
Accreditation
APA Accredited
Psychology Degrees Offered:
Master's in Counseling Psychology
Masters Program in General Psychology
Reviews
University of Kentucky has no reviews yet.
Tuition & Financial Aid
Campus Setting: City - Large
Student-to-Faculty Ratio: 18 to 1
Total Enrollment: 7207
Inquire for current tuition
Latest News on Google
Category
University of Kentucky has programs in the following specializations: Counseling Psychology, General Psychology.
Location
University of Kentucky has campus locations in: Kentucky
Nearby Schools for Psychology

Eastern Kentucky University
(23 miles)
Richmond, KY

Morehead State University
(60 miles)
Morehead, KY

Union Institute & University
(76 miles)
Cincinnati, OH

University of Cincinnati-Main Campus
(76 miles)
Cincinnati, OH

Xavier University
(77 miles)
Cincinnati, OH, Online Option

Union College
(87 miles)
Barbourville, KY
University of the Cumberlands (91 miles)
Williamsburg, KY, Online Option

Lincoln Memorial University
(110 miles)
Harrogate, TN

Marshall University
(116 miles)
Huntington, WV

University of Dayton
(119 miles)
Dayton, OH