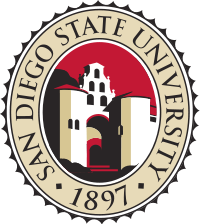 San Diego State University
Map 5500 Campanile Dr, San Diego, CA 92182» 619-594-5200 » www.sdsu.edu

San Diego State University offers both Masters and Doctorate Degrees in Counseling Psychology. This field revolves around interpersonal response and behavior throughout the entirety of a lifespan and focuses on vocational, academic, developmental, health, emotional, and social issues being faced today. The Counseling Psychology program consists of training in a wide variety of general and basic concepts to give the required skills to students hoping to find professional careers in the fields of sports medicine, neurophysiology, developmental disabilities, eating disorders, aggression control, crisis intervention, and a multitude of other area of expertise. The MA program takes approximately two to three years to complete, which the Ph. D. extends to five years in length.

Interview
This school has not been interviewed yet. Contact us if you would be interested in an interview.
Format
Accreditation
APA Accredited
Psychology Degrees Offered:
Masters in Counseling Psychology
Counseling Psychology PhD
Master of Science in Psychological Science
Reviews
San Diego State University has no reviews yet.
Tuition & Financial Aid
Campus Setting: City - Large
Student-to-Faculty Ratio: 29 to 1
Total Enrollment: 4853
Inquire for current tuition
Latest News on Google
Category
San Diego State University has programs in the following specializations: Counseling Psychology.
Location
San Diego State University has campus locations in: California, Online
Nearby Schools for Psychology

Alliant International University
(8.52 miles)
San Diego, CA, Online Option

University of California-San Diego
(12 miles)
La Jolla, CA

National University
(14 miles)
La Jolla, CA

California State University-San Marcos
(25 miles)
San Marcos, CA

Vanguard University of Southern California
(78 miles)
Costa Mesa, CA

California Baptist University
(82 miles)
Riverside, CA

University of California-Riverside
(84 miles)
Riverside, CA

California State University-Fullerton
(90 miles)
Fullerton, CA

Touro University Worldwide
(91 miles)
Los Alamitos, CA, Online Option

California State University-Long Beach
(92 miles)
Long Beach, CA