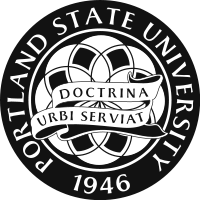 Portland State University
Map 724 SW Harrison, Portland, OR 97201» 503-725-3511 » www.pdx.edu

Portland State University currently offers an MA/MS in Psychology. The course looks at both applied psychology and psychology methodology. Additionally, in order to complete the degree, you will need to enter a thesis, for which you will be fully supported by faculty staff. The degree can also be used to work towards the Ph.D. in Applied Psychology, although this is not a requirement. As a student, you will be expected to take part in various project in the community. The university prides itself on its cultural diversity and the fact that it has a focus on sustainable development, student success and global excellence.

Interview
This school has not been interviewed yet. Contact us if you would be interested in an interview.
Format
Accreditation
APA Accredited
Psychology Degrees Offered:
Masters of Arts in Psychology
Masters of Science in Psychology
Ph.D. in Applied Psychology
Masters of Science Clinical Psychology
Masters of Science Experimental Psychology
Reviews
Portland State University has no reviews yet.
Tuition & Financial Aid
Campus Setting: City - Large
Inquire for current tuition
Latest News on Google
Category
Portland State University has programs in the following specializations: General Psychology, Applied Psychology, Clinical Psychology, Mental Health Psychology.
Location
Portland State University has campus locations in: Oregon
Nearby Schools for Psychology

Pacific University
(21 miles)
Forest Grove, OR

University of Oregon
(103 miles)
Eugene, OR, Online Option

Central Washington University
(145 miles)
Ellensburg, WA

Seattle University
(146 miles)
Seattle, WA, Online Option
City University of Seattle (146 miles)
Seattle, WA, Online Option

Seattle Pacific University
(149 miles)
Seattle, WA, Online Option

Northwest University
(150 miles)
Kirkland, WA, Online Option

Bastyr University
(155 miles)
Kenmore, WA