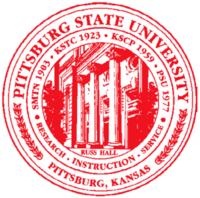 Pittsburg State University
Map 1701 S Broadway, Pittsburg, KS 66762» 620-231-7000 » www.pittstate.edu

Pittsburg State University, located in Pittsburg, Kansas, offers a Master of Science within the Department of Psychology with a major in Psychology. This program shines emphasis on two areas of future profession; the more general emphasis includes becoming an educator in a community college setting or continuing education by applying for a doctoral program. In order to obtain the appropriate certification and licensing to practice in the field of Psychology students will be required to continue their studies. Emphasis two provides training for those students who seek a license at the Master's level and wish to work with mental disorders in districts that allow this type of license.

Interview
This school has not been interviewed yet. Contact us if you would be interested in an interview.
Format
Accreditation
APA Accredited
Psychology Degrees Offered:
Masters in General Psychology
Masters in Clinical Psychology
Master of Arts in Counseling
Master of Arts in Human Services Counseling
Psy.D. in Clinical Psychology
Ph.D. in Counselor Education & Supervision
Reviews
Pittsburg State University has no reviews yet.
Tuition & Financial Aid
Campus Setting: Town - Distant
Inquire for current tuition
Latest News on Google
Category
Pittsburg State University has programs in the following specializations: General Psychology, Clinical Psychology, Counseling Psychology.
Location
Pittsburg State University has campus locations in: Kansas, Online
Nearby Schools for Psychology

Forest Institute of Professional Psychology
(79 miles)
Springfield, MO

University of Arkansas
(96 miles)
Fayetteville, AR

Avila University
(105 miles)
Kansas City, MO, Online Option

University of Tulsa
(110 miles)
Tulsa, OK

University of Central Missouri
(111 miles)
Warrensburg, MO

University of Kansas
(112 miles)
Lawrence, KS

University of Missouri-Kansas City
(114 miles)
Kansas City, MO

Washburn University
(126 miles)
Topeka, KS

University of Saint Mary
(131 miles)
Leavenworth, KS

Wichita State University
(144 miles)
Wichita, KS, Online Option