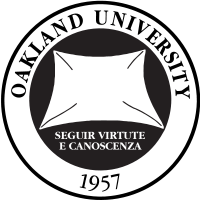 Oakland University
Map 2200 North Squirrel Road, Rochester Hills, MI 48309-4401» 248-370-2100 » www.oakland.edu

Oakland University's master's program encourages their students to become involved in faculty lead research teams to develop a better understanding of their chosen field and the practical side of the careers they may be facing upon graduation. This is a non-requirement of the course, and aids in the ability to identify the faculty members of the Masters Committee, which will approve or reject a student's final thesis or science project which is required to complete this program. The project must result in a review of literature, a publication submitted to journal of professional standards or a grant proposal. In order to be awarded with a degree of master of science in psychology, students must complete 36 credits to the satisfactory of the committee.

Interview
This school has not been interviewed yet. Contact us if you would be interested in an interview.
Format
Accreditation
APA Accredited
Psychology Degrees Offered:
Masters in Social-Personality Psychology
Master of Arts Counseling Psychology Program with an Emphasis in Depth Psychology
Reviews
Oakland University has no reviews yet.
Tuition & Financial Aid
Campus Setting: Suburb - Large
Student-to-Faculty Ratio: 21 to 1
Total Enrollment: 3550
Inquire for current tuition
Latest News on Google
Category
Oakland University has programs in the following specializations: Social Psychology, Counseling Psychology.
Location
Oakland University has campus locations in: Michigan
Nearby Schools for Psychology

Wayne State University
(23 miles)
Detroit, MI

University of Michigan-Dearborn
(25 miles)
Dearborn, MI

Eastern Michigan University
(36 miles)
Ypsilanti, MI

Tiffin University
(107 miles)
Tiffin, OH

Cleveland State University
(113 miles)
Cleveland, OH
Cornerstone University (122 miles)
Grand Rapids, MI, Online Option

Western Michigan University
(125 miles)
Kalamazoo, MI, Online Option

Grand Valley State University
(137 miles)
Allendale, MI
Indiana Institute of Technology (147 miles)
Fort Wayne, IN, Online Option

Edinboro University of Pennsylvania
(168 miles)
Edinboro, PA, Online Option