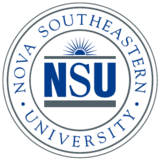 Nova Southeastern University
Map 3301 College Ave, Fort Lauderdale, FL 33314-7796» 954-262-7300 » www.nova.edu

The Nova Southeastern University offers a completely online based, 36 credit program in which students will hope to achieve a Master of Science in Forensic Psychology. During the duration of the program, students are given an understanding of what the role of Forensic Psychologist entails and how they can apply the valuable knowledge and skills gained in a variety of contextual positions such as court cases, criminal justice and child welfare cases. Students will have regular contact with tutors and faculty members through the use of online programs allowing ideas and theories as well as tips and advice through the use of an interactive blackboard system.

Interview
This school has not been interviewed yet. Contact us if you would be interested in an interview.
Format
Accreditation
APA Accredited
Psychology Degrees Offered:
Masters of Science in Forensic Psychology
Masters of Science in General Psychology
Master of Arts in Counseling Psychology
Masters in Psychological Science
PhD Clinical Psychology
Reviews
Nova Southeastern University has no reviews yet.
Tuition & Financial Aid
Campus Setting: Suburb - Large
Student-to-Faculty Ratio: 18 to 1
Total Enrollment: 21069
Inquire for current tuition
Latest News on Google
Category
Nova Southeastern University has programs in the following specializations: Forensic Psychology, General Psychology, Counseling Psychology, Clinical Psychology.
Location
Nova Southeastern University has campus locations in: Florida
Nearby Schools for Psychology

Barry University
(14 miles)
Miami, FL

Florida Atlantic University
(22 miles)
Boca Raton, FL

Florida International University
(24 miles)
Miami, FL

University of Miami
(25 miles)
Coral Gables, FL, Online Option

Florida Institute of Technology
(139 miles)
Melbourne, FL

University of Central Florida
(184 miles)
Orlando, FL

University of South Florida-St. Petersburg
(188 miles)
St. Petersburg, FL