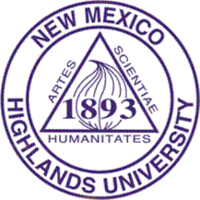 New Mexico Highlands University
Map University Ave, Las Vegas, NM 87701» 505-425-7511 » www.nmhu.edu

There are two different tracks offered at the New Mexico Highlands University in which students can obtain a Master of Science Degree in Psychology. The General Psychology track consists of 36 credit hours and is designed to give a similar background knowledge to those who are studying on a Doctoral level. It offers knowledge of all areas of Psychology as well as the chance to specialize in a certain field. The Clinical Psychology track consists of 67 credit hours in this specialized area and is specifically for students wishing to study further at a Doctoral level or practice as Psychological Clinician.

Interview
This school has not been interviewed yet. Contact us if you would be interested in an interview.
Format
Accreditation
APA Accredited
Psychology Degrees Offered:
Masters of Science Degree in Psychology
Masters of Science Clinical Psychology/Counseling
Master of Arts in Psychology
Reviews
New Mexico Highlands University has no reviews yet.
Tuition & Financial Aid
Campus Setting: Town - Remote
Inquire for current tuition
Latest News on Google
Category
New Mexico Highlands University has programs in the following specializations: Counseling Psychology, General Psychology.
Location
New Mexico Highlands University has campus locations in: New Mexico, Online
Nearby Schools for Psychology

University of Phoenix-Albuquerque Campus
(82 miles)
Albuquerque, NM

West Texas A & M University
(191 miles)
Canyon, TX, Online Option