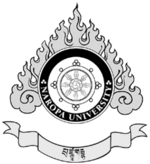 Naropa University
Map 2130 Arapahoe Ave, Boulder, CO 80302-6697» 303-444-0202 » www.naropa.edu

The Naropa University Graduate School of Psychology offers a Master of Arts in Counseling Psychology which is designed for those students who wish to develop a broad understanding of the field of Counseling Psychology. The course work for this program focuses on a practical learning experience set in the present day psychology world. Students are supported in cultivating their own professional identity and will be challenged in this process by faculty staff. Only 48 graduates are accepted on to this program each year and the department ensures that they create a diverse and cultural learning environment for all students who are undertaking the course.

Interview
This school has not been interviewed yet. Contact us if you would be interested in an interview.
Format
Accreditation
APA Accredited
Psychology Degrees Offered:
Masters in Counseling Psychology Concentration
Masters in Engineering Psychology
Masters in Cognitive Psychology
Masters in Social Pscychology
Reviews
Naropa University has no reviews yet.
Tuition & Financial Aid
Campus Setting: City - Small
Inquire for current tuition
Latest News on Google
Category
Naropa University has programs in the following specializations: Counseling Psychology, Cognitive Psychology, Social Psychology.
Location
Naropa University has campus locations in: Colorado
Nearby Schools for Psychology
Colorado Christian University (23 miles)
Lakewood, CO, Online Option

University of Colorado Denver
(23 miles)
Denver, CO

University of Denver
(27 miles)
Denver, CO

Aspen University
(28 miles)
Denver, CO

Colorado State University-Global Campus
(34 miles)
Greenwood Village, CO

Colorado State University-Fort Collins
(40 miles)
Fort Collins, CO, Online Option

University of Northern Colorado
(40 miles)
Greeley, CO
University of Colorado Colorado Springs
(81 miles)
Colorado Springs, CO

University of the Rockies
(85 miles)
Denver, CO

University of Wyoming
(91 miles)
Laramie, WY