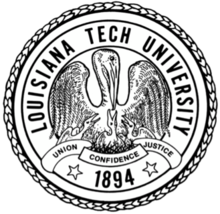 Louisiana Tech University
Map 305 Wisteria, Ruston, LA 71272» 318-257-2000 » www.latech.edu

Louisiana Tech University Department of Psychology and Behavioral Sciences offers a variety of different Psychology Degrees and Certifications at graduate levels. Students can undertake a Post-baccalaureate program in Domestic and Family Violence and A Master of Arts Degree or Doctoral Degree in Counseling and Guidance or Industrial and Organizational Psychology. The Department strives to gives students knowledge of the theories and practices involved in modern day Psychology which ever field they choose to pursue. Graduates can and often do, go on to further study or to gain employment and become successful, licensed practitioners in a wide range of Psychology based professions.

Interview
This school has not been interviewed yet. Contact us if you would be interested in an interview.
Format
Accreditation
APA Accredited
Psychology Degrees Offered:
Master of Arts in Counseling Psychology
Ph.D. in Counseling Psychology
Ph.D. in Industrial and Organizational Psychology
Master of Arts in Psychology
Reviews
Louisiana Tech University has no reviews yet.
Tuition & Financial Aid
Campus Setting: Town - Distant
Inquire for current tuition
Latest News on Google
Category
Louisiana Tech University has programs in the following specializations: Counseling Psychology, Industrial/Organizational Psychology, General Psychology.
Location
Louisiana Tech University has campus locations in: Louisiana
Nearby Schools for Psychology
University of Louisiana-Monroe (34 miles)
Monroe, LA, Online Option

Northwestern State University of Louisiana
(60 miles)
Natchitoches, LA

Louisiana State University-Shreveport
(62 miles)
Shreveport, LA

Mississippi College
(136 miles)
Clinton, MS

The University of Texas at Tyler
(152 miles)
Tyler, TX

Louisiana State University and Agricultural & Mechanical College
(161 miles)
Baton Rouge, LA

Lamar University
(191 miles)
Beaumont, TX

Arkansas Tech University
(193 miles)
Russellville, AR