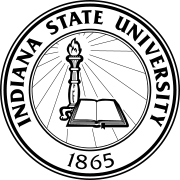 Indiana State University
Map 210 N 7th St, Terre Haute, IN 47809» 812-237-6311 » www.indstate.edu

The General Experimental Master's Program at Indiana State University is designed to help you on your way towards a Ph.D., or to start work within the community in the field of experimental psychology. The program places a strong focus on research skills, which opens a wide range of employment opportunities. Indiana State University is one of the older universities in the country. They have always had a strong focus on creating communities of alumni, using their own team colors, team mascots, fight songs and even special days to celebrate and reward achievement. Clearly, it is a university that is rich in tradition.

Interview
This school has not been interviewed yet. Contact us if you would be interested in an interview.
Format
Accreditation
APA Accredited
Psychology Degrees Offered:
Masters in Experimental Psychology
Clinical Psychology Doctorate
Doctorate in Cognitive Psychology
Doctorate in Counseling Psychology
Doctorate in Social Psychology
Reviews
Indiana State University has no reviews yet.
Tuition & Financial Aid
Campus Setting: City - Small
Inquire for current tuition
Latest News on Google
Category
Indiana State University has programs in the following specializations: Mental Health Psychology, Clinical Psychology, Cognitive Psychology, Counseling Psychology, Social Psychology.
Location
Indiana State University has campus locations in: Indiana
Nearby Schools for Psychology

Indiana University-Purdue University Indianapolis
(69 miles)
Indianapolis, IN, Online Option

University of Indianapolis
(70 miles)
Indianapolis, IN

Ball State University
(117 miles)
Muncie, IN, Online Option
Indiana Wesleyan University (117 miles)
Marion, IN, Online Option

Valparaiso University
(139 miles)
Valparaiso, IN

Indiana University-Northwest
(144 miles)
Gary, IN, Online Option

Southern Illinois University Edwardsville
(146 miles)
Edwardsville, IL

Calumet College of Saint Joseph
(152 miles)
Whiting, IN, Online Option

Trinity Christian College
(153 miles)
Palos Heights, IL

Chicago State University
(156 miles)
Chicago, IL