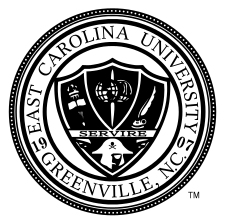 East Carolina University
Map East 5th Street, Greenville, NC 27858-4353» 252-328-6131 » www.ecu.edu

East Carolina University boasts of a highly successful Department of Psychology committed to unique undergraduate and graduate level learning. The skills gained through these programs will influence students to commit to a specialized field of psychology with the intention of turning these skills into a profession, or continuing the education process through pursuing a doctoral degree. ECU offers Master's degrees in Industrial and Organizational Psychology as well as a Ph.D. program in the field of Health Psychology with three areas of expertise to be studied in clinical health, occupational health and pediatric school psychology. Students are expected to graduate with a firm grasp of theoretical and practical knowledge gained through studies, research, and hands on experience.

Interview
This school has not been interviewed yet. Contact us if you would be interested in an interview.
Format
Accreditation
APA Accredited
Psychology Degrees Offered:
Masters in Industrial/Organizational Psychology
Masters/CAS School Psychology - Clinical Health Psychology - Health Psychology - Pediatric School Psychology
Master in Clinical Psychology (MS)
Masters in Mental Health Counseling (MS)
Reviews
East Carolina University has no reviews yet.
Tuition & Financial Aid
Campus Setting: City - Small
Student-to-Faculty Ratio: 18 to 1
Total Enrollment: 5649
Inquire for current tuition
Latest News on Google
Category
East Carolina University has programs in the following specializations: Industrial/Organizational Psychology, Health Psychology, Clinical Psychology, Mental Health Psychology.
Location
East Carolina University has campus locations in: North Carolina
Nearby Schools for Psychology

Fayetteville State University
(94 miles)
Fayetteville, NC, Online Option

University of North Carolina at Chapel Hill
(97 miles)
Chapel Hill, NC

University of North Carolina Wilmington
(100 miles)
Wilmington, NC

Regent University
(105 miles)
Virginia Beach, VA

Norfolk State University
(106 miles)
Norfolk, VA

Old Dominion University
(106 miles)
Norfolk, VA, Online Option

Virginia State University
(113 miles)
Petersburg, VA

Virginia Commonwealth University
(134 miles)
Richmond, VA

University of North Carolina at Greensboro
(141 miles)
Greensboro, NC

Liberty University
(157 miles)
Lynchburg, VA, Online Option