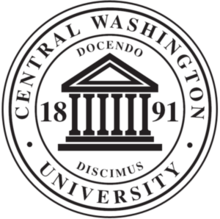 Central Washington University
Map 400 East University Way, Ellensburg, WA 98926-7501» 509-963-1111 » www.cwu.edu

At Central Washington University, you can choose from a number of different graduate programs in psychology. These are Applied Behavior Analysis, Mental Health Counseling, General Experimental Psychology and School Psychology. This demonstrates the variety of courses that are available and the range of employment opportunities that could come upon completion of your degree. The learning opportunities at Central Washington University are both face to face and online, allowing for a greater variety of students to attend. The focus of the university is to advance society as a whole. Additionally, the university focuses on creating global partnerships by working together with various other universities across the globe.

Interview
This school has not been interviewed yet. Contact us if you would be interested in an interview.
Format
Accreditation
APA Accredited
Psychology Degrees Offered:
Master's in General Experimental Psychology & Mental Health Counseling Programs & School Psychology
Master of Science (Masters of Science) - Clinical and Counseling Psychology
Reviews
Central Washington University has no reviews yet.
Tuition & Financial Aid
Campus Setting: Town - Distant
Inquire for current tuition
Latest News on Google
Category
Central Washington University has programs in the following specializations: Mental Health Psychology, Counseling Psychology.
Location
Central Washington University has campus locations in: Washington
Nearby Schools for Psychology

Northwest University
(90 miles)
Kirkland, WA, Online Option

Seattle University
(93 miles)
Seattle, WA, Online Option

Bastyr University
(95 miles)
Kenmore, WA
City University of Seattle (95 miles)
Seattle, WA, Online Option

Seattle Pacific University
(96 miles)
Seattle, WA, Online Option

Eastern Washington University
(142 miles)
Cheney, WA

Portland State University
(145 miles)
Portland, OR

Western Washington University
(150 miles)
Bellingham, WA, Online Option

Pacific University
(160 miles)
Forest Grove, OR

Washington State University
(161 miles)
Pullman, WA, Online Option