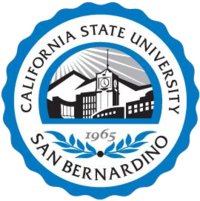 California State University-San Bernardino
Map 5500 University Pky, San Bernardino, CA 92407-2397» 909-537-5000 » www.csusb.edu

At the California State University, San Bernardino location, you can take part in both graduate and undergraduate psychology programs. The school has receive nine Outstanding Professor Awards, something that it prides itself greatly on. Indeed, the emphasis is on making sure that you, as a student, are able to achieve your full academic potential and even reach beyond your intellectual capabilities. In the graduate program, you can choose one of four pathways, being general/experimental psychology, child development, clinical/counseling psychology and industrial/organizational psychology. At undergraduate level, you can study towards a BA in Psychology or Neuroscience, or a BA in Human Development.

Interview
This school has not been interviewed yet. Contact us if you would be interested in an interview.
Format
Accreditation
APA Accredited
Psychology Degrees Offered:
Master of Arts Child Development Program
Masters of Science Clinical/Counseling Program
Master of Arts General/Experimental Program
Masters of Science Industrial/Organizational Program
Master of Science - School Psychology
Reviews
California State University-San Bernardino has no reviews yet.
Tuition & Financial Aid
Campus Setting: City - Midsize
Inquire for current tuition
Latest News on Google
Category
California State University-San Bernardino has programs in the following specializations: Counseling Psychology, Mental Health Psychology, Industrial/Organizational Psychology, School Psychology.
Location
California State University-San Bernardino has campus locations in: California, Online
Nearby Schools for Psychology

University of California-Riverside
(14 miles)
Riverside, CA

California Baptist University
(19 miles)
Riverside, CA

Claremont Graduate University
(23 miles)
Claremont, CA, Online Option

California State Polytechnic University-Pomona
(30 miles)
Pomona, CA

Azusa Pacific University
(33 miles)
Azusa, CA

California State University-Fullerton
(38 miles)
Fullerton, CA

Fuller Theological Seminary in California
(47 miles)
Pasadena, CA

Vanguard University of Southern California
(49 miles)
Costa Mesa, CA

California State University-Los Angeles
(49 miles)
Los Angeles, CA

Touro University Worldwide
(49 miles)
Los Alamitos, CA, Online Option