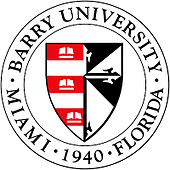 Barry University
Map 11300 NE 2nd Ave, Miami, FL 33161-6695» 800-756-6000 » www.barry.edu

Barry University's Master Degree Program in Clinical Psychology is designed with the scientist-practitioner model in mind, to ready students for further studies in the area of mental health. Students are encouraged to pursue a doctorate degree following completion of their MACP, and use their newly developed skills in research, theory, evaluation, and diagnosis to succeed in their chosen fields. Barry is a training focused institute that requires students to complete either a 60 credit degree, which is necessary to work toward licensing, or a 36 credit option. A practicum portion of the program is required in both options of the degree and includes 8 hours of clinical work per week in a supervised mental health scenario over the period of one semester.

Interview
This school has not been interviewed yet. Contact us if you would be interested in an interview.
Format
Accreditation
APA Accredited
Psychology Degrees Offered:
Master of Science in Clinical Psychology
Master of Arts in Counseling Psychology
Reviews
Barry University has no reviews yet.
Tuition & Financial Aid
Campus Setting: Suburb - Large
Student-to-Faculty Ratio: 12 to 1
Total Enrollment: 4451
Inquire for current tuition
Latest News on Google
Category
Barry University has programs in the following specializations: Clinical Psychology, Counseling Psychology.
Location
Barry University has campus locations in: Florida
Nearby Schools for Psychology

University of Miami
(12 miles)
Coral Gables, FL, Online Option

Florida International University
(14 miles)
Miami, FL

Nova Southeastern University
(14 miles)
Fort Lauderdale, FL

Florida Atlantic University
(35 miles)
Boca Raton, FL

Florida Institute of Technology
(153 miles)
Melbourne, FL

University of Central Florida
(198 miles)
Orlando, FL

University of South Florida-St. Petersburg
(199 miles)
St. Petersburg, FL