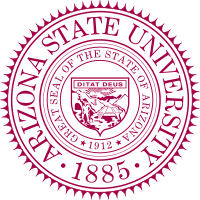 Arizona State University
Map University Drive and Mill Avenue, Tempe, AZ 85287» 480-965-2100 » www.asu.edu/

The Arizona State University Department of Psychology offers a Master of Arts Degree program in Psychology and Addiction Counseling. This program is specifically designed for individuals who wish to become licensed addiction counselors. The Department is passionate about providing highly skilled and dedicated professionals who will be able to assist those suffering from addictions in the best possible way. The program consists of several courses which are directly related to the role of addictions counselor as well as those relating to family counseling and Behavioral Disorders. Graduates often go on to employment in schools, prisons, rehabilitation centers and other community settings.

Interview
This school has not been interviewed yet. Contact us if you would be interested in an interview.
Format
Accreditation
APA Accredited
Psychology Degrees Offered:
Masters of Arts in Genetic Counseling
Master of Arts in Psychology and Addiction Counseling
Reviews
Arizona State University has no reviews yet.
Tuition & Financial Aid
Campus Setting: City - Midsize
Inquire for current tuition
Latest News on Google
Category
Arizona State University has programs in the following specializations: Counseling Psychology, General Psychology.
Location
Arizona State University has campus locations in: Arizona
Nearby Schools for Psychology

Grand Canyon University
(13 miles)
Phoenix, AZ

Argosy University
(14 miles)
Phoenix, AZ, Online Option

Northcentral University
(84 miles)
Prescott Valley, AZ

University of Arizona
(100 miles)
Tucson, AZ

Northern Arizona University
(123 miles)
Flagstaff, AZ