Multi-Cultural Counselor
What We Do
A multi-cultural counselor works with people and groups to improve ethnic and racial empathy, as well as understanding.
Work Environment
A multi-cultural counselor may work for a government agency in social services, in a university, or in private practice.
How to Become
A master's degree in psychology and experience in social work is necessary to enter this field.
Job Outlook
Counselors and psychologists will see a 12% increase in demand by 2022, which is about average when compared to other jobs.
Salary
The average national salary of jobs for Multi-Cultural Counselor was $43,000 with a high confidence ranking based on over 250 sources. Average Multi-Cultural Counselor salaries for job postings nationwide are 27% lower than average salaries for all job postings nationwide.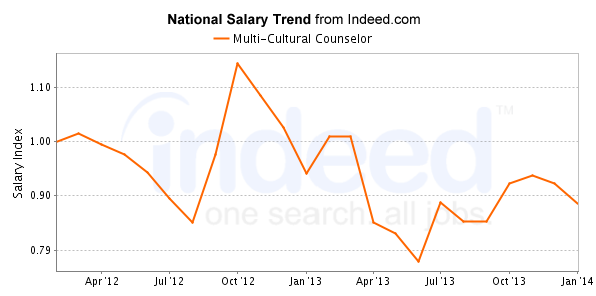 Training & Certification Requirements
This type of counslor needs to be licensed, and must take a state exam.
Education Requirements
Easily find and compare Bachelor's, Master's & PhD Psychology programs required for a Multi-Cultural Counselor.
Compare the Top Salary Sites
We've researched the salary levels for Multi-Cultural Counselor from the top 3 job websites including Indeed.com, Careerbuilder.com and SimplyHired.com. Below are the compared salaries for Multi-Cultural Counselor:
Below are the salaries for Multi-Cultural Counselor, as quoted by the top job websites:
All brand names are trademarks of their respective owners. All salary source data is public & accurate as of 2018-07-16.
Average Salaries Across The Country
Salary by State
The following lists ranks salaries in each state around the country.
Alaska -

$33,000

(High Confidence (more than 250 sources))

Salary Rank: 47th
Average Multi-Cultural Counselor salaries for job postings in Alaska are 24% lower than average Multi-Cultural Counselor salaries for job postings nationwide.

In USD as of March 24, 2014

55k

110k

165k

Multi-Cultural Counselor
$33,000

Alabama -

$43,000

(High Confidence (more than 250 sources))

Salary Rank: 12th
Average Multi-Cultural Counselor salaries for job postings in Alabama are the same as average Multi-Cultural Counselor salaries for job postings nationwide.

In USD as of March 24, 2014

55k

110k

165k

Multi-Cultural Counselor
$43,000

Arkansas -

$42,000

(High Confidence (more than 250 sources))

Salary Rank: 17th
Average Multi-Cultural Counselor salaries for job postings in Arkansas are 2% lower than average Multi-Cultural Counselor salaries for job postings nationwide.

In USD as of March 24, 2014

55k

110k

165k

Multi-Cultural Counselor
$42,000

Arizona -

$36,000

(High Confidence (more than 250 sources))

Salary Rank: 43rd
Average Multi-Cultural Counselor salaries for job postings in Arizona are 16% lower than average Multi-Cultural Counselor salaries for job postings nationwide.

In USD as of March 24, 2014

55k

110k

165k

Multi-Cultural Counselor
$36,000

California -

$47,000

(High Confidence (more than 250 sources))

Salary Rank: 7th
Average Multi-Cultural Counselor salaries for job postings in California are 7% higher than average Multi-Cultural Counselor salaries for job postings nationwide.

In USD as of March 24, 2014

55k

110k

165k

Multi-Cultural Counselor
$47,000

Colorado -

$38,000

(High Confidence (more than 250 sources))

Salary Rank: 36th
Average Multi-Cultural Counselor salaries for job postings in Colorado are 12% lower than average Multi-Cultural Counselor salaries for job postings nationwide.

In USD as of March 24, 2014

55k

110k

165k

Multi-Cultural Counselor
$38,000

Connecticut -

$50,000

(High Confidence (more than 250 sources))

Salary Rank: 4th
Average Multi-Cultural Counselor salaries for job postings in Connecticut are 14% higher than average Multi-Cultural Counselor salaries for job postings nationwide.

In USD as of March 24, 2014

55k

110k

165k

Multi-Cultural Counselor
$50,000

DC -

$53,000

(High Confidence (more than 250 sources))

Salary Rank: 1st
Average Multi-Cultural Counselor salaries for job postings in Washington, DC are 21% higher than average Multi-Cultural Counselor salaries for job postings nationwide.

In USD as of March 24, 2014

55k

110k

165k

Multi-Cultural Counselor
$53,000

Delaware -

$39,000

(High Confidence (more than 250 sources))

Salary Rank: 32nd
Average Multi-Cultural Counselor salaries for job postings in Delaware are 11% lower than average Multi-Cultural Counselor salaries for job postings nationwide.

In USD as of March 24, 2014

55k

110k

165k

Multi-Cultural Counselor
$39,000

Florida -

$41,000

(High Confidence (more than 250 sources))

Salary Rank: 24th
Average Multi-Cultural Counselor salaries for job postings in Florida are 6% lower than average Multi-Cultural Counselor salaries for job postings nationwide.

In USD as of March 24, 2014

55k

110k

165k

Multi-Cultural Counselor
$41,000

Georgia -

$50,000

(High Confidence (more than 250 sources))

Salary Rank: 5th
Average Multi-Cultural Counselor salaries for job postings in Georgia are 14% higher than average Multi-Cultural Counselor salaries for job postings nationwide.

In USD as of March 24, 2014

55k

110k

165k

Multi-Cultural Counselor
$50,000

Hawaii -

$27,000

(High Confidence (more than 250 sources))

Salary Rank: 51st
Average Multi-Cultural Counselor salaries for job postings in Hawaii are 37% lower than average Multi-Cultural Counselor salaries for job postings nationwide.

In USD as of March 24, 2014

55k

110k

165k

Multi-Cultural Counselor
$27,000

Iowa -

$42,000

(High Confidence (more than 250 sources))

Salary Rank: 18th
Average Multi-Cultural Counselor salaries for job postings in Iowa are 3% lower than average Multi-Cultural Counselor salaries for job postings nationwide.

In USD as of March 24, 2014

55k

110k

165k

Multi-Cultural Counselor
$42,000

Idaho -

$28,000

(High Confidence (more than 250 sources))

Salary Rank: 50th
Average Multi-Cultural Counselor salaries for job postings in Idaho are 36% lower than average Multi-Cultural Counselor salaries for job postings nationwide.

In USD as of March 24, 2014

55k

110k

165k

Multi-Cultural Counselor
$28,000

Illinois -

$49,000

(High Confidence (more than 250 sources))

Salary Rank: 6th
Average Multi-Cultural Counselor salaries for job postings in Illinois are 12% higher than average Multi-Cultural Counselor salaries for job postings nationwide.

In USD as of March 24, 2014

55k

110k

165k

Multi-Cultural Counselor
$49,000

Indiana -

$42,000

(High Confidence (more than 250 sources))

Salary Rank: 19th
Average Multi-Cultural Counselor salaries for job postings in Indiana are 4% lower than average Multi-Cultural Counselor salaries for job postings nationwide.

In USD as of March 24, 2014

55k

110k

165k

Multi-Cultural Counselor
$42,000

Kansas -

$39,000

(High Confidence (more than 250 sources))

Salary Rank: 33rd
Average Multi-Cultural Counselor salaries for job postings in Kansas are 10% lower than average Multi-Cultural Counselor salaries for job postings nationwide.

In USD as of March 24, 2014

55k

110k

165k

Multi-Cultural Counselor
$39,000

Kentucky -

$37,000

(High Confidence (more than 250 sources))

Salary Rank: 41st
Average Multi-Cultural Counselor salaries for job postings in Kentucky are 15% lower than average Multi-Cultural Counselor salaries for job postings nationwide.

In USD as of March 24, 2014

55k

110k

165k

Multi-Cultural Counselor
$37,000

Louisiana -

$37,000

(High Confidence (more than 250 sources))

Salary Rank: 42nd
Average Multi-Cultural Counselor salaries for job postings in Louisiana are 15% lower than average Multi-Cultural Counselor salaries for job postings nationwide.

In USD as of March 24, 2014

55k

110k

165k

Multi-Cultural Counselor
$37,000

Massachusetts -

$52,000

(High Confidence (more than 250 sources))

Salary Rank: 3rd
Average Multi-Cultural Counselor salaries for job postings in Massachusetts are 19% higher than average Multi-Cultural Counselor salaries for job postings nationwide.

In USD as of March 24, 2014

55k

110k

165k

Multi-Cultural Counselor
$52,000

Maryland -

$44,000

(High Confidence (more than 250 sources))

Salary Rank: 10th
Average Multi-Cultural Counselor salaries for job postings in Maryland are 2% higher than average Multi-Cultural Counselor salaries for job postings nationwide.

In USD as of March 24, 2014

55k

110k

165k

Multi-Cultural Counselor
$44,000

Maine -

$38,000

(High Confidence (more than 250 sources))

Salary Rank: 37th
Average Multi-Cultural Counselor salaries for job postings in Maine are 13% lower than average Multi-Cultural Counselor salaries for job postings nationwide.

In USD as of March 24, 2014

55k

110k

165k

Multi-Cultural Counselor
$38,000

Michigan -

$44,000

(High Confidence (more than 250 sources))

Salary Rank: 11th
Average Multi-Cultural Counselor salaries for job postings in Michigan are 1% higher than average Multi-Cultural Counselor salaries for job postings nationwide.

In USD as of March 24, 2014

55k

110k

165k

Multi-Cultural Counselor
$44,000

Minnesota -

$38,000

(High Confidence (more than 250 sources))

Salary Rank: 38th
Average Multi-Cultural Counselor salaries for job postings in Minnesota are 13% lower than average Multi-Cultural Counselor salaries for job postings nationwide.

In USD as of March 24, 2014

55k

110k

165k

Multi-Cultural Counselor
$38,000

Missouri -

$43,000

(High Confidence (more than 250 sources))

Salary Rank: 13th
Average Multi-Cultural Counselor salaries for job postings in Missouri are 2% lower than average Multi-Cultural Counselor salaries for job postings nationwide.

In USD as of March 24, 2014

55k

110k

165k

Multi-Cultural Counselor
$43,000

Mississippi -

$46,000

(High Confidence (more than 250 sources))

Salary Rank: 9th
Average Multi-Cultural Counselor salaries for job postings in Mississippi are 6% higher than average Multi-Cultural Counselor salaries for job postings nationwide.

In USD as of March 24, 2014

55k

110k

165k

Multi-Cultural Counselor
$46,000

Montana -

$40,000

(High Confidence (more than 250 sources))

Salary Rank: 28th
Average Multi-Cultural Counselor salaries for job postings in Montana are 9% lower than average Multi-Cultural Counselor salaries for job postings nationwide.

In USD as of March 24, 2014

55k

110k

165k

Multi-Cultural Counselor
$40,000

North Carolina -

$42,000

(High Confidence (more than 250 sources))

Salary Rank: 20th
Average Multi-Cultural Counselor salaries for job postings in North Carolina are 3% lower than average Multi-Cultural Counselor salaries for job postings nationwide.

In USD as of March 24, 2014

55k

110k

165k

Multi-Cultural Counselor
$42,000

North Dakota -

$38,000

(High Confidence (more than 250 sources))

Salary Rank: 39th
Average Multi-Cultural Counselor salaries for job postings in North Dakota are 12% lower than average Multi-Cultural Counselor salaries for job postings nationwide.

In USD as of March 24, 2014

55k

110k

165k

Multi-Cultural Counselor
$38,000

Nebraska -

$32,000

(High Confidence (more than 250 sources))

Salary Rank: 48th
Average Multi-Cultural Counselor salaries for job postings in Nebraska are 27% lower than average Multi-Cultural Counselor salaries for job postings nationwide.

In USD as of March 24, 2014

55k

110k

165k

Multi-Cultural Counselor
$32,000

New Hampshire -

$43,000

(High Confidence (more than 250 sources))

Salary Rank: 14th
Average Multi-Cultural Counselor salaries for job postings in New Hampshire are 2% lower than average Multi-Cultural Counselor salaries for job postings nationwide.

In USD as of March 24, 2014

55k

110k

165k

Multi-Cultural Counselor
$43,000

New Jersey -

$47,000

(High Confidence (more than 250 sources))

Salary Rank: 8th
Average Multi-Cultural Counselor salaries for job postings in New Jersey are 7% higher than average Multi-Cultural Counselor salaries for job postings nationwide.

In USD as of March 24, 2014

55k

110k

165k

Multi-Cultural Counselor
$47,000

New Mexico -

$38,000

(High Confidence (more than 250 sources))

Salary Rank: 40th
Average Multi-Cultural Counselor salaries for job postings in New Mexico are 12% lower than average Multi-Cultural Counselor salaries for job postings nationwide.

In USD as of March 24, 2014

55k

110k

165k

Multi-Cultural Counselor
$38,000

Nevada -

$35,000

(High Confidence (more than 250 sources))

Salary Rank: 45th
Average Multi-Cultural Counselor salaries for job postings in Nevada are 20% lower than average Multi-Cultural Counselor salaries for job postings nationwide.

In USD as of March 24, 2014

55k

110k

165k

Multi-Cultural Counselor
$35,000

New York -

$53,000

(High Confidence (more than 250 sources))

Salary Rank: 2nd
Average Multi-Cultural Counselor salaries for job postings in New York are 21% higher than average Multi-Cultural Counselor salaries for job postings nationwide.

In USD as of March 24, 2014

55k

110k

165k

Multi-Cultural Counselor
$53,000

Ohio -

$42,000

(High Confidence (more than 250 sources))

Salary Rank: 21st
Average Multi-Cultural Counselor salaries for job postings in Ohio are 4% lower than average Multi-Cultural Counselor salaries for job postings nationwide.

In USD as of March 24, 2014

55k

110k

165k

Multi-Cultural Counselor
$42,000

Oklahoma -

$40,000

(High Confidence (more than 250 sources))

Salary Rank: 29th
Average Multi-Cultural Counselor salaries for job postings in Oklahoma are 9% lower than average Multi-Cultural Counselor salaries for job postings nationwide.

In USD as of March 24, 2014

55k

110k

165k

Multi-Cultural Counselor
$40,000

Oregon -

$41,000

(High Confidence (more than 250 sources))

Salary Rank: 25th
Average Multi-Cultural Counselor salaries for job postings in Oregon are 5% lower than average Multi-Cultural Counselor salaries for job postings nationwide.

In USD as of March 24, 2014

55k

110k

165k

Multi-Cultural Counselor
$41,000

Pennsylvania -

$41,000

(High Confidence (more than 250 sources))

Salary Rank: 26th
Average Multi-Cultural Counselor salaries for job postings in Pennsylvania are 5% lower than average Multi-Cultural Counselor salaries for job postings nationwide.

In USD as of March 24, 2014

55k

110k

165k

Multi-Cultural Counselor
$41,000

Rhode Island -

$40,000

(High Confidence (more than 250 sources))

Salary Rank: 30th
Average Multi-Cultural Counselor salaries for job postings in Rhode Island are 7% lower than average Multi-Cultural Counselor salaries for job postings nationwide.

In USD as of March 24, 2014

55k

110k

165k

Multi-Cultural Counselor
$40,000

South Carolina -

$42,000

(High Confidence (more than 250 sources))

Salary Rank: 22nd
Average Multi-Cultural Counselor salaries for job postings in South Carolina are 4% lower than average Multi-Cultural Counselor salaries for job postings nationwide.

In USD as of March 24, 2014

55k

110k

165k

Multi-Cultural Counselor
$42,000

South Dakota -

$32,000

(High Confidence (more than 250 sources))

Salary Rank: 49th
Average Multi-Cultural Counselor salaries for job postings in South Dakota are 25% lower than average Multi-Cultural Counselor salaries for job postings nationwide.

In USD as of March 24, 2014

55k

110k

165k

Multi-Cultural Counselor
$32,000

Tennessee -

$40,000

(High Confidence (more than 250 sources))

Salary Rank: 31st
Average Multi-Cultural Counselor salaries for job postings in Tennessee are 8% lower than average Multi-Cultural Counselor salaries for job postings nationwide.

In USD as of March 24, 2014

55k

110k

165k

Multi-Cultural Counselor
$40,000

Texas -

$42,000

(High Confidence (more than 250 sources))

Salary Rank: 23rd
Average Multi-Cultural Counselor salaries for job postings in Texas are 3% lower than average Multi-Cultural Counselor salaries for job postings nationwide.

In USD as of March 24, 2014

55k

110k

165k

Multi-Cultural Counselor
$42,000

Utah -

$34,000

(High Confidence (more than 250 sources))

Salary Rank: 46th
Average Multi-Cultural Counselor salaries for job postings in Utah are 22% lower than average Multi-Cultural Counselor salaries for job postings nationwide.

In USD as of March 24, 2014

55k

110k

165k

Multi-Cultural Counselor
$34,000

Virginia -

$43,000

(High Confidence (more than 250 sources))

Salary Rank: 15th
Average Multi-Cultural Counselor salaries for job postings in Virginia are the same as average Multi-Cultural Counselor salaries for job postings nationwide.

In USD as of March 24, 2014

55k

110k

165k

Multi-Cultural Counselor
$43,000

Vermont -

$39,000

(High Confidence (more than 250 sources))

Salary Rank: 34th
Average Multi-Cultural Counselor salaries for job postings in Vermont are 11% lower than average Multi-Cultural Counselor salaries for job postings nationwide.

In USD as of March 24, 2014

55k

110k

165k

Multi-Cultural Counselor
$39,000

Washington -

$43,000

(High Confidence (more than 250 sources))

Salary Rank: 16th
Average Multi-Cultural Counselor salaries for job postings in Washington are the same as average Multi-Cultural Counselor salaries for job postings nationwide.

In USD as of March 24, 2014

55k

110k

165k

Multi-Cultural Counselor
$43,000

Wisconsin -

$39,000

(High Confidence (more than 250 sources))

Salary Rank: 35th
Average Multi-Cultural Counselor salaries for job postings in Wisconsin are 11% lower than average Multi-Cultural Counselor salaries for job postings nationwide.

In USD as of March 24, 2014

55k

110k

165k

Multi-Cultural Counselor
$39,000

West Virginia -

$41,000

(High Confidence (more than 250 sources))

Salary Rank: 27th
Average Multi-Cultural Counselor salaries for job postings in West Virginia are 5% lower than average Multi-Cultural Counselor salaries for job postings nationwide.

In USD as of March 24, 2014

55k

110k

165k

Multi-Cultural Counselor
$41,000

Wyoming -

$36,000

(High Confidence (more than 250 sources))

Salary Rank: 44th
Average Multi-Cultural Counselor salaries for job postings in Wyoming are 16% lower than average Multi-Cultural Counselor salaries for job postings nationwide.

In USD as of March 24, 2014

55k

110k

165k

Multi-Cultural Counselor
$36,000
Compare Related Professions
Career
Salary Range
Salary Rank
Applied Psychologist
$33,000 - $64,000
123rd
Army Psychologist
$29,000 - $56,000
145th
Business Psychologist
$29,000 - $56,000
146th
Theoretical Psychologist
$31,000 - $60,000
142nd
Vocational Psychologist
$29,000 - $55,000
147th
Psychological Technician
$27,000 - $52,000
160th
State Agency Counselor
$25,000 - $47,000
179th
Rehabilitation Counselor
$28,000 - $54,000
154th
School Counselor
$29,000 - $55,000
148th
Spiritual Counselor
$23,000 - $45,000
184th