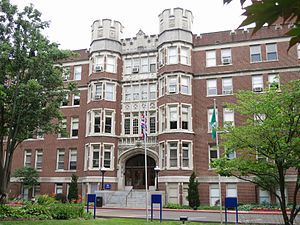 Webster University
Map 470 E Lockwood Ave., Saint Louis, MO 63119-3194» 314-961-2660 » www.webster.edu

Webster University offers students who have previously completed undergraduate programs with an emphasis in Psychology, the ability to enter into a Masters in Psychology with an Emphasis in Counseling. Counseling and clinical psychologists cover very different areas of the psychological world; where clinical practitioners are consulted by patients suffering from mental illness, counselors provide assistance to developmental problems and mental disorders in a more general sense to resolve family and personal crises. Webster University provides graduates with a skill set that is needed to work in schools, hospitals, private and public practices and within the government. Students who succeed in this program are qualified to be licensed within their prospective fields.

Interview
This school has not been interviewed yet. Contact us if you would be interested in an interview.
Format
Accreditation
APA Accredited
Psychology Degrees Offered:
Masters of Arts in Psychology with an Emphasis in Counseling Psychology
Master of Arts in Psychology
Doctor of Philosophy
Reviews
Webster University has no reviews yet.
Tuition & Financial Aid
Campus Setting: Suburb - Large
Inquire for current tuition
Latest News on Google
Category
Webster University has programs in the following specializations: General Psychology.
Location
Webster University has campus locations in: Missouri
Nearby Schools for Psychology

University of Missouri-St Louis
(8.66 miles)
Saint Louis, MO

Southern Illinois University Edwardsville
(23 miles)
Edwardsville, IL
Missouri University of Science and Technology (89 miles)
Rolla, MO, Online Option

University of Missouri-Columbia
(109 miles)
Columbia, MO, Online Option

Western Illinois University
(131 miles)
Macomb, IL

Indiana State University
(169 miles)
Terre Haute, IN

Murray State University
(176 miles)
Murray, KY

University of Central Missouri
(182 miles)
Warrensburg, MO

Forest Institute of Professional Psychology
(188 miles)
Springfield, MO