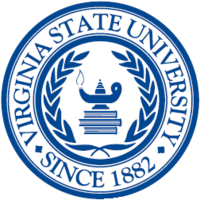 Virginia State University
Map 1 Hayden Drive, Petersburg, VA 23806» 804-524-5000 » www.vsu.edu

Through Virginia State University, you can study towards an MS in Psychology. The focus is on one of the two areas, which is either general or clinical psychology. The courses conclude both practical and thesis, which must both be completed in order to finish the degree. One of the reasons why Virginia is so popular is because they focus on individual students and their strengths. This means that outstanding students may be offered a college training position upon completion, but also that each student will receive individual attention in order to make sure they develop a program most suitable to their needs.

Interview
This school has not been interviewed yet. Contact us if you would be interested in an interview.
Format
Accreditation
APA Accredited
Psychology Degrees Offered:
Master of Science in General Psychology
Master of Science in Clinical Psychology
M.Ed. in Psychology
Master of Science in Psychology
Reviews
Virginia State University has no reviews yet.
Tuition & Financial Aid
Campus Setting: Suburb - Large
Inquire for current tuition
Latest News on Google
Category
Virginia State University has programs in the following specializations: General Psychology, Clinical Psychology.
Location
Virginia State University has campus locations in: Virginia
Nearby Schools for Psychology

Virginia Commonwealth University
(22 miles)
Richmond, VA

Old Dominion University
(66 miles)
Norfolk, VA, Online Option

Norfolk State University
(69 miles)
Norfolk, VA

Regent University
(74 miles)
Virginia Beach, VA

University of Virginia-Main Campus
(81 miles)
Charlottesville, VA, Online Option

Liberty University
(97 miles)
Lynchburg, VA, Online Option

George Mason University
(110 miles)
Fairfax, VA

East Carolina University
(113 miles)
Greenville, NC

Institute for the Psychological Sciences (114 miles)
Arlington, VA, Online Option

James Madison University
(115 miles)
Harrisonburg, VA