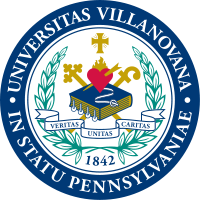 Villanova University
Map 800 Lancaster Avenue, Villanova, PA 19085-1699» 610-519-4500 » www.villanova.edu

The Villanova University graduate program in psychology is designed to help you on your track towards achieving a Ph.D. in psychology. The course is beneficial for a wide range of psychological preparations, including terminal mental health, counseling and clinical psychology. Additionally, there is an emphasis on data collection and research, which is another interesting possible career option. Villanova has been able to build a very good reputation on a national level in recent years and is known to really help those who wish to pursue Ph.D. level education. One of the reasons they have been able to do this is by their excellent research facility.

Interview
This school has not been interviewed yet. Contact us if you would be interested in an interview.
Format
Accreditation
APA Accredited
Psychology Degrees Offered:
Master of Science degree in general psychology
Master of Arts in Psychology - Clinical Concentration
Reviews
Villanova University has no reviews yet.
Tuition & Financial Aid
Campus Setting: Suburb - Large
Inquire for current tuition
Latest News on Google
Category
Villanova University has programs in the following specializations: General Psychology.
Location
Villanova University has campus locations in: Pennsylvania
Nearby Schools for Psychology

Saint Joseph's University
(6.46 miles)
Philadelphia, PA

Chestnut Hill College
(6.99 miles)
Philadelphia, PA

Philadelphia College of Osteopathic Medicine
(7.31 miles)
Philadelphia, PA

Drexel University
(10 miles)
Philadelphia, PA

La Salle University
(10 miles)
Philadelphia, PA

Arcadia University
(10 miles)
Glenside, PA

Immaculata University
(12 miles)
Immaculata, PA

Wilmington University
(28 miles)
New Castle, DE, Online Option

University of Delaware
(33 miles)
Newark, DE

Millersville University of Pennsylvania
(53 miles)
Millersville, PA