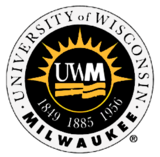 University of Wisconsin-Milwaukee
Map 2200 E Kenwood Blvd, Milwaukee, WI 53201-0413» 414-229-1122 » www.uwm.edu

At the University of Wisconsin - Milwaukee, two different psychology degrees can be had. The first is the MS in Psychology, and the second the Ph.D. in psychology. Within these, there is an emphasis on either clinical or experimental psychology (for the MS) or clinical psychology specializing in either behavior or health (for the Ph.D.). The real emphasis is on developing research competence, through facts, theories and methodologies. Students must develop a thesis in order to complete their degree, which is fully supported by highly experienced, qualified and trained staff at the university itself. This is a great opportunity to develop skills.

Interview
This school has not been interviewed yet. Contact us if you would be interested in an interview.
Format
Accreditation
APA Accredited
Psychology Degrees Offered:
Masters of Science in Psychology
Ph.D. in Psychology
Ph.D. Clinical Psychology
Reviews
University of Wisconsin-Milwaukee has no reviews yet.
Tuition & Financial Aid
Campus Setting: City - Large
Inquire for current tuition
Latest News on Google
Category
University of Wisconsin-Milwaukee has programs in the following specializations: General Psychology, Clinical Psychology.
Location
University of Wisconsin-Milwaukee has campus locations in: Wisconsin
Nearby Schools for Psychology

Rosalind Franklin University of Medicine and Science
(54 miles)
North Chicago, IL

Trinity International University-Illinois
(61 miles)
Deerfield, IL

Northwestern University
(71 miles)
Evanston, IL

University of Wisconsin-Oshkosh
(74 miles)
Oshkosh, WI

Loyola University Chicago
(75 miles)
Chicago, IL

University of Wisconsin-Madison
(77 miles)
Madison, WI

DePaul University
(81 miles)
Chicago, IL

Concordia University-Chicago
(81 miles)
River Forest, IL

The Chicago School of Professional Psychology at Chicago
(83 miles)
Chicago, IL, Online Option

Adler School of Professional Psychology
(84 miles)
Chicago, IL, Online Option