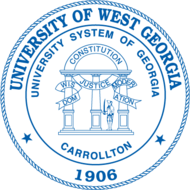 University of West Georgia
Map 1601 Maple St, Carrollton, GA 30118-0001» 678-839-5000 » www.westga.edu

The University of West Georgia offers a full range of psychology programs that reflect the depth of the spectrum that is psychology. The degrees you can choose from include the undergraduate Bachelor of Arts, the graduate Master of Arts and the Ph.D. programs. There are two Ph.D. programs, one being the consciousness and society option and the integrative health studies certificate. The mission of the University of West Georgia is to ensure you are able to reach your full educational and academic potential, while at the same time offering you personal attention in a supportive and pleasant environment.

Interview
This school has not been interviewed yet. Contact us if you would be interested in an interview.
Format
Accreditation
APA Accredited
Psychology Degrees Offered:
Masters in Psychology
PhD in Psychology - Consciousness and Society
Individual
Organizational
& Community Transformation Psy.D.
Master of Arts in Psychology
Reviews
University of West Georgia has no reviews yet.
Tuition & Financial Aid
Campus Setting: Town - Fringe
Inquire for current tuition
Latest News on Google
Category
University of West Georgia has programs in the following specializations: General Psychology, Industrial/Organizational Psychology.
Location
University of West Georgia has campus locations in: Georgia
Nearby Schools for Psychology

Georgia Institute of Technology-Main Campus
(43 miles)
Atlanta, GA, Online Option

Georgia State University
(43 miles)
Atlanta, GA

Emory University
(47 miles)
Atlanta, GA
Luther Rice University & Seminary (57 miles)
Lithonia, GA, Online Option

Auburn University
(71 miles)
Auburn University, AL

University of Georgia
(102 miles)
Athens, GA

Auburn University at Montgomery
(104 miles)
Montgomery, AL
Amridge University (104 miles)
Montgomery, AL, Online Option

The University of Alabama
(143 miles)
Tuscaloosa, AL

Clemson University
(150 miles)
Clemson, SC